Man Utd raise ticket prices to follow Arsenal example
Last updated on .From the section Football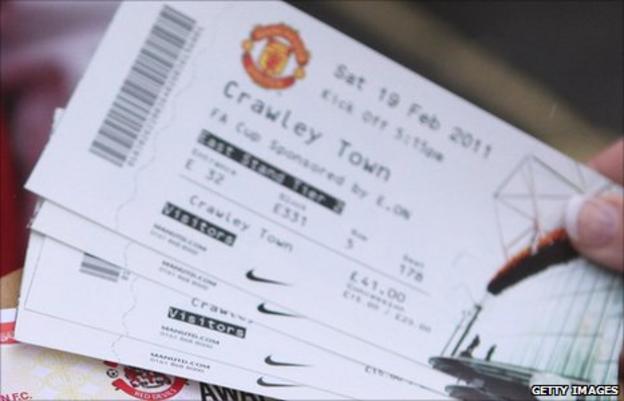 Manchester United have announced an across-the-board £1 per match increase on ticket prices for next season.
The club say the decision is a result of the increase in VAT from 17.5% to 20%, having absorbed the initial rise since the start of 2011.
They have also decided to reduce ticket prices for 16-17-year-old fans.
It comes a day after Arsenal increased prices by 6.5%, a move the Arsenal Supporters Trust feels will price loyal fans out of the Emirates Stadium.
United's decision means supporters purchasing a top-price season ticket will pay £950 for a 19-match home Premier League programme.
Above that amount, season ticket holders also have to pay for Champions League and FA Cup matches regardless of whether they attend those games.
Taking into account the new prices - this season the Premier League leaders froze them - United's tickets will have increased on average by 5.8% since the Glazer family completed its controversial takeover in 2005.
This compares with an average 5.9% increase during the previous six years.
The Gunners, meanwhile, insist they have given careful consideration to their rise, which is in line with inflation and the VAT increase, after freezing prices for some time.
Arsenal chief executive Ivan Gazidis has pledged to "undertake an entire review of the approach to ticketing", saying the increase had been a difficult decision to make.
But the Arsenal Supporters Trust (AST) has expressed dismay at the increase.
A statement from AST read: "The AST is very disappointed at this increase.
"The Arsenal board are clearly out of touch with today's economic climate and have taken a decision which will price loyal supporters out of the Emirates.
"The AST does welcome Ivan Gazidis' acknowledgement to us that prices are too high, and that he will work with us over the next year on a thorough review of all ticketing strategies and prices at Emirates Stadium."
The announcement coincides with the offer period from American businessman Stan Kroenke, who must this week send out formal documents for his proposed takeover of the club.
He has already increased his holding to 63% after buying the stakes of the late Danny Fiszman and Lady Nina Bracewell-Smith.
However, the deal is by no means done, with major shareholder Alisher Usmanov indicating he may hold on to his 27%.
Meanwhile, AST has urged all minority shareholders not to sell as they believe the club should not be owned by any single individual.
"It is unfortunate that this increase comes at the same time as the takeover by Stan Kroenke," AST added.
"Arsenal fans are now looking for urgent clarification from Stan Kroenke that all of the revenue raised from this increase is for investment in the playing squad.
"Supporters would be appalled if they were being asked to pay for a dividend or towards the cost of the takeover."