Jackson hails Norwich City 'magic man' Paul Lambert
Last updated on .From the section Football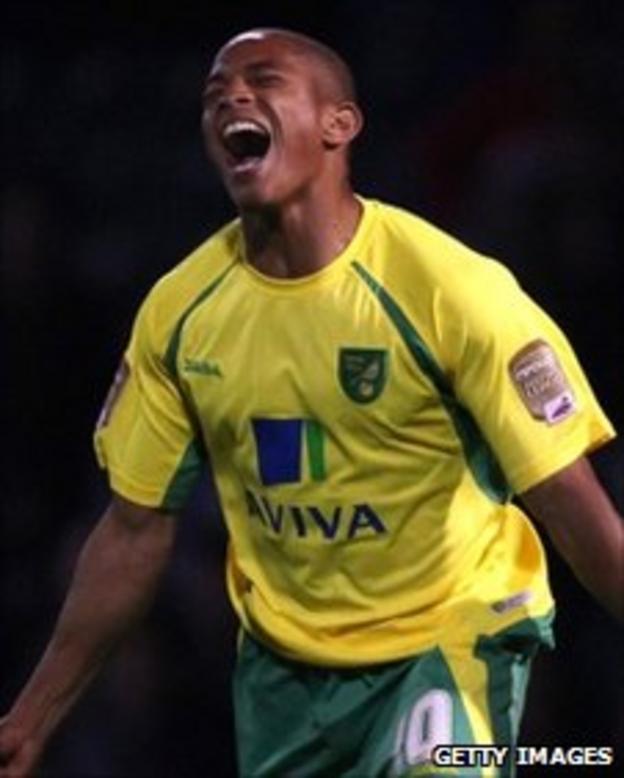 Norwich City striker Simeon Jackson has defied manager Paul Lambert's attempts to reject the plaudits for the club's promotion success.
Lambert has preferred to deflect the accolades on to his players and staff since the Canaries booked their place in the Premier League on Monday.
But Jackson, who scored the goal in the , told BBC Radio Norfolk Lambert must receive praise.
"The gaffer's a magic man, he knows what to do and when to do it," he said.
"What he's done since he's been here has been unreal, it's something special. The fans are definitely happy he's the manager of the club."
Jackson, 24, was with the squad as they landed at Norwich Airport on a flight from the south coast on Tuesday, where the team were greeted by waiting supporters.
Midfielder Andrew Crofts said he was still coming to terms with the whole experience.
"It's surreal to be honest, it hasn't sunk in, we had a great night," said the Welshman.
"It probably won't sink in until we're playing next year when we walk out at all those big stadiums and are playing against all those great players."
Full-back Russell Martin, who has chipped in with five goals this season, said he was delighted the Canaries won promotion despite being ranked outsiders by the pre-season critics.
"We've achieved what nobody outside of this city thought we would," he added.
"Everyone in this city, as the season's gone on, has believed in us and as players we've started believing in ourselves."