Defeat drives Darlington's Marc Bridge-Wilkinson
Last updated on .From the section Football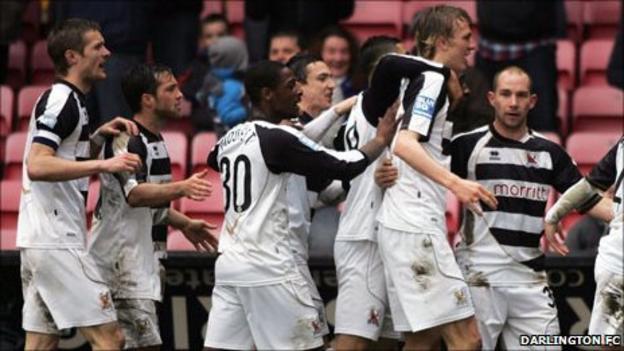 Cup finals can produce heroes - and villains.
They can be joyous affairs, full of famous memories, and also a player's worst nightmare.
Darlington midfielder Marc Bridge-Wilkinson has experienced both extremes of emotion in his final appearances.
As a winner, with Port Vale in the 2001 LDV Vans final, the Coventry-born midfielder netted to help his side to a 2-1 win against Brentford at Cardiff's Millennium Stadium.
But last season he tasted defeat, as then-club Carlisle United were blown away 4-1 by Southampton in the Johnstone's Paint Trophy at Wembley.
"They were two completely different aspects," Bridge-Wilkinson told BBC Tees.
"Winning [with Vale] we had a really good day, really enjoyed the occasion, didn't play well in the game but we won.
"It was one of those things you were excited about, you cherish, you look back on, and think fondly of.
"Losing is completely the opposite. It's nice to say you've been there, and played there, but I haven't got any fond memories of the day.
"Wembley's a nice pitch and it's a great stadium but you may aswell be playing on a park pitch. It's a cup final and you've got to win it.
"I look back on last season and say I'm grateful I got to play at Wembley, but that's all.
"I don't think about the result, I don't think about the game we played, I think about now and wiping that bad memory out and filling it with a good one.
"I'm sure if everything goes to plan I can look back on it a bit differently."
The two sides go into Saturday's game in differing form at the end of the Blue Square Bet Premier season.
Mark Cooper's Quakers won five of their last seven games to finish just six points short of a play-off place, while the Stags, led by Duncan Russell, won just three of their last 10 games to slide well away from contention and finish up in mid-table.
"They're a good side, we've had two good games against them this season, it's going to be tough," Bridge-Wilkinson added.
"We've not got to be overawed by the occasion, we've got to go at our opponent head on and win the battle."
Having just missed out on the promotion mix-up in their first season following relegation from the Football League, the pressure is on for Cooper and his players to push for the title next season.
And Bridge-Wilkinson, who arrived from Carlisle United on an initial loan basis in October, believes trophy success could further fuel their ambitions.
"Depending on who the manager is trying to attract, I'm sure he'll be bringing in new players, it happens every year at every club," Bridge-Wilkinson said.
"The fact we've done quite well in the league and if we won this cup it would probably be easier to encourage new players to come, maybe players that are here to stay.
"With the fact that we've got nearly nine or 10 players under contract for next season, we've got a real shot of doing something next year."