Wrexham's Dean Saunders aims for Football League return
Last updated on .From the section Football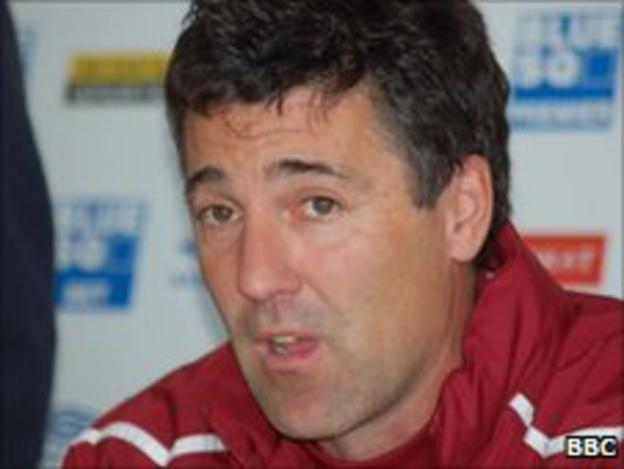 Manager Dean Saunders has spoken of his desire to lead Wrexham back into the Football League after a three year absence.
Wrexham face Luton in the first leg of the Conference semi-final play-offs on Thursday night at the Racecourse.
And Saunders has challenged his players to regain the club's Football League status following relegation in 2008.
"I don't want to keep managing in the Conference," said Saunders.
"I've come here to try and get the club out of the league. It's taken me a while to turn the club around and we've got a team now we can be proud of.
"I've got other things going on in my life which I've neglected to try and make sure no stone's unturned in us getting back into the Football League.
"I've spent all of my career up the other end of the football scale so that's where I want to be eventually.
"All these players have got to have ambition.
"If you've got no ambition, if you've got no pride in your performance then you'll end staying here all your life.
"There's a few of them who have played in the league before and they know that's a better place to play football."
Saunders' side finished fourth in the Blue Square Bet Premier - three points behind third-placed Luton Town.
Wrexham beat the Hatters 1-0 at the Racecourse in November and secured a 1-1 draw at Kenilworth Road last Saturday.
Though he admits Luton will be favourites, Saunders believes Wrexham can triumph over two legs to secure a place in the play-off final on 21 May at the City of Manchester Stadium.
"I don't think we've got anything to fear apart from ourselves," said Saunders.
"If we turn up and we play like we have been playing, and we're hard to play against as we normally are, then we'll be fine.
"Obviously they are favourites and they've probably got two teams they could field and it's a massive club.
"I remember playing against Luton in the Premier League not so long ago and in the semi-final of the League Cup.
"They are a massive club and are looking to get back into the league. Probably that's why they are favourites.
"We need the bounce of the ball, we need the players to be determined as they can be and want to win more than the other team.
"[We're] going to treat it like a normal game. I've just said go out and beat them and we've definitely got the equipment to do it. It's making sure they all turn up on the day."