How Manchester United can beat Barcelona
By Steve McClaren
Former England manager & BBC Radio 5 live pundit at Old Trafford
Last updated on .From the section Football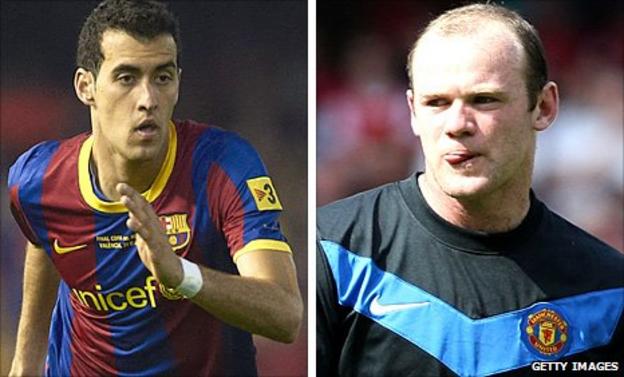 Manchester United manager Sir Alex Ferguson has the perfect opportunity to avenge the 2009 Champions League final defeat by Barcelona - but he must get his tactics absolutely spot on if he wants to lift the trophy for the third time in his managerial career.
And inevitably, the key to victory is how United deal with Lionel Messi, along with Sergio Busquets.
In 2009, Samuel Eto'o, who normally played centre forward, started on the right while Messi theoretically played centre forward.
Only he didn't play up front, he played in midfield. It left centre-backs Nemanja Vidic and Rio Ferdinand marking nobody with Barcelona totally outnumbering Manchester United in central midfield.
Michael Carrick was totally lost that night - he didn't know whether to pick up Messi, Andres Iniesta or Xavi Hernandez as Barcelona took total control of midfield.
United will have to consider that prospect once again should Barcelona manager Pep Guardiola adopt the same tactic at Wembley. How would Vidic and Ferdinand cope second time around?
Barcelona hardly ever pass the ball more than 10 yards to a team-mate. The great Johan Cruyff, who won 11 trophies in an illustrious career as Barcelona manager, told me something very interesting during a visit to FC Twente when I was manager there.
He said: "Do you know how Barcelona win the ball back so quickly? It's because they don't have to run back more than 10 metres as they never pass the ball more than 10 metres." They are always so close to the ball.
To counteract this, Manchester United need to play at a high tempo, to beat the press and get at the Barca back four.
In the first 10 minutes of the 2009 final they did this very well, playing at a high tempo and matching their opponents' work-rate.
They pressed so high, Barcelona were practically inside their own box, forcing them to abandon their game of neat passes in favour of longer balls.
But Barcelona eventually found a way around the United press and once they do that, the doubts begin to creep into the opposition's minds.
Some United players pressed, some didn't and from that moment on, they were lost. The key is staying compact, no matter if the back four is on the edge of the box or the half-way line.
Inter Milan did something similar by staying compact and pressuring as a team in last season's semi-final victory.
For me, the key player United have to stop is Busquets. I've looked at the passing statistics and Busquets has the ball more than any other Barcelona player, even more than Xavi and Iniesta.
And the key man for United here will be Wayne Rooney, who could play as a "semi-midfield" player behind Javier Hernandez with the responsibility of "dropping in" on Busquets when he has the ball.
When Sir Alex has given Rooney that added responsibility but he isn't playing with the discipline Sir Alex wants, the manager moves him to the left and shifts Ryan Giggs into that number 10 position because the experienced winger has more discipline, control and intelligence to execute that role. Rooney is quickly learning from that.
I watched him closely in the Champions League quarter-final matches against Chelsea when he pressurised Michael Essien and stopped him playing as United dominated the midfield.
That was the intelligence and discipline that Rooney needs to play in that number 10 position to stop Busquets from dictating play.
The other way United can beat Barcelona is on the transition [the break], something they do very well with the dual threat of Hernandez and Rooney.
Barcelona's defence are vulnerable to a fast counter-attack - Arsenal nearly scored a vital goal with 10 men at the Nou Camp with a Nicklas Bendtner chance on the transition.
United must follow Arsenal's example and play a high defensive line, keep compact, deny space and attempt to hit Barcelona on the quick transition, that five or six seconds from one end to the other.
They have to be brave - Arsenal were risky and nearly did it. Manchester United can do it.
Steve McClaren was speaking on BBC Radio 5 live.