FA Cup: Injured Carlos Tevez rated '50%' for final
Last updated on .From the section Football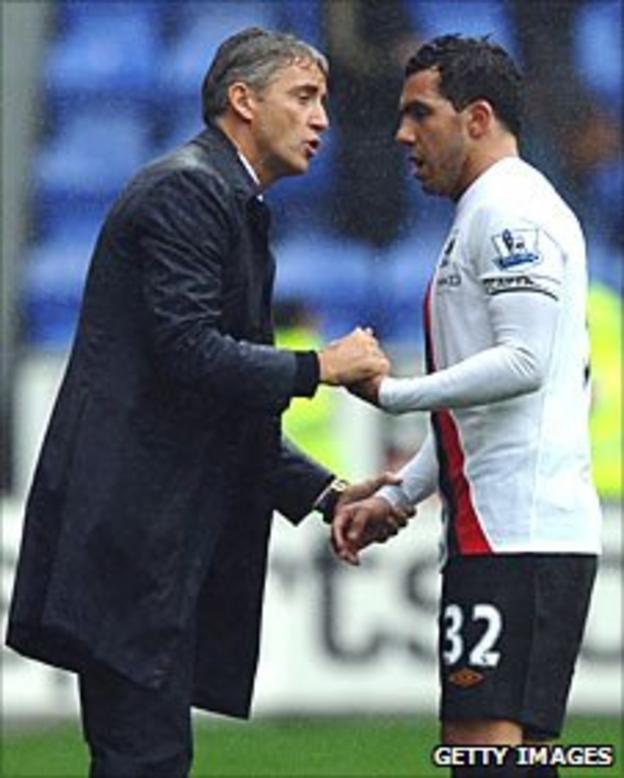 Manchester City boss Roberto Mancini says Carlos Tevez has a 50% chance of being fit for the FA Cup final after his recent hamstring injury.
Tevez has not played since 11 April and Mancini says if the striker is not fit to train before Tuesday's game with Tottenham he is unlikely to face Stoke.
"He must train. In the next days we'll see if it is possible," he said.
"If he can play 20 minutes we can see if he can play or not. At the moment I think he's 50% for the final."
Mancini's team take on Stoke at Wembley on 14 May in their first FA Cup final appearance since 1981 and will they will be desperate for the talismanic club captain to be fit for selection.
Tevez missed the semi-final win over his former club Manchester United and was not involved in Saturday's 2-1 defeat at Everton, a result which places even more emphasis on Tuesday's game at Eastlands.
City and Tottenham are leading the race for the fourth and final Champions League place - although Liverpool are also still in the frame - a tussle which was kept alive when City lost at Goodison Park, despite having gone ahead.
"It was incredible we lost this game," said Mancini.
"We dominated in the first half and had four or five chances to score.
"But this is football. If you lose concentration, if you concede a yard to the other team, it is difficult.
"A game like today we should never lose. If we want to become a strong team, we cannot lose this game.
"We shouldn't lose it because we had more chances to score in the second half."
Meanwhile, Everton boss David Moyes played down the spat between his players and City's staff at the end of the game.
Everton's Tim Cahill and City's Aleksandar Kolarov appeared to exchange words while Phil Neville was involved in heated discussion with Mancini and his assistant Brian Kidd.
When asked what sparked the incident, Mancini said: "I don't know because I wanted to take off Kolarov. I don't know what upset them."
Moyes said: "It wasn't Phil Neville. I think one of their players said Seamus Coleman had elbowed them or something like that, but it was nothing.
"All the fighting was done in the 90 minutes, not after the game."