Hearts look to have SPL title say
Last updated on .From the section Football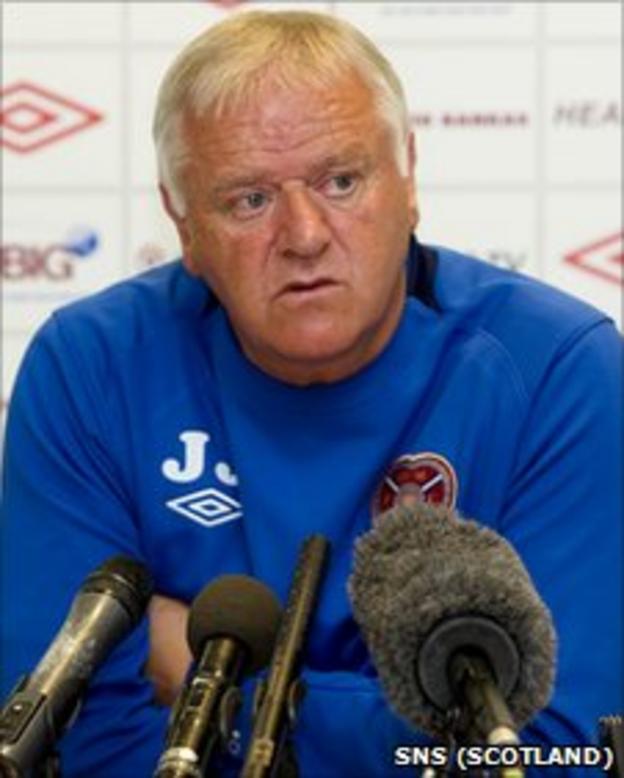 Hearts manager Jim Jefferies has predicted further twists in the title race as his side prepare to face Rangers and Celtic in successive games.
Hearts make the trip to Ibrox on Saturday followed next Wednesday by Celtic visiting Tynecastle.
"If we do get a result on Saturday I hope we can match it on Wednesday or there will be all these conspiracy theories," said Jefferies.
"We'll be making it as difficult for them both as possible."
Celtic lost 3-2 at Inverness on Wednesday to hand the Scottish Premier League initiative to their Old Firm rivals.
Both sides have three matches remaining and the Ibrox side are one point better off.
While Hearts could have a say in the destination of the SPL trophy, they have their own agenda as they are seeking to claim third place ahead of Dundee United, who they meet in the final game of the season on 15 May.
"It will be interesting," added Jefferies, whose side lead United by eight points.
"The Old Firm managers themselves said after the last Old Firm game [a 0-0 draw on 24 April] that there will be still some twists and turns - we saw one last night and hopefully we can be included in those twists and turns.
"We can assure both clubs - and if it goes to Dundee United - that we'll be trying hard to get as many points as we can."
While praising Celtic manager Neil Lennon's efforts in his first full season in charge, the Hearts boss believes if Walter Smith can lift the SPL title in his final season at Ibrox it would be one of his greatest success, with resources stretched at Rangers and the distraction of a prolonged takeover bid.
Jefferies said of Rangers: "They've done tremendously well to hang on in there and it would be one of his better achievements considering what he has had to contend with since the turn of the year."
Hearts are 21 points behind Rangers entering this weekend's fixtures, but Jefferies believes it might have been different had injuries to key players - Kevin Kyle in particular - and suspensions not stalled his side's progress.
"If we hadn't had the injuries to the key players, we wouldn't be talking about third place now - there was a good optimism that we could challenge," he added.
"We got close and it was at the time we lost these players that it fell away.
"I'm sure we would've clinched third place long before now and been a lot closer to the Old Firm.
"I'm not saying we would've split them or won it, but we would've been a lot closer."