Top 10 is sticking point for Dundee United
Last updated on .From the section Football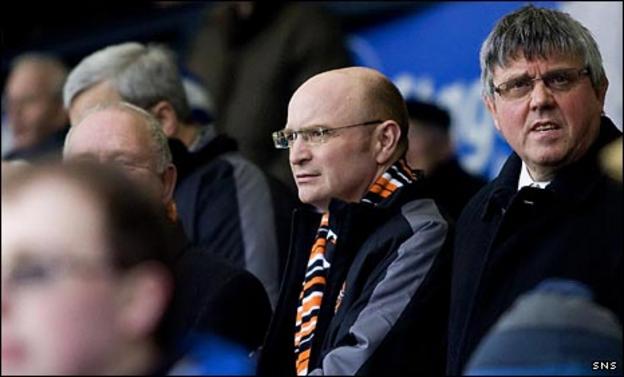 Opposition to a 10-team top flight remains the main obstacle to Dundee United backing the Scottish Premier League's proposed package of reforms.
"Why does it have to be the full package or nothing?" said chairman Stephen Thompson. "That seems daft when there are lots of good things in it.
"We can merge the governing bodies, have play-offs, start the season earlier, have a winter break.
"But is 10 what we want at the top? I'm not convinced."
A working party of SPL member clubs has compiled a comprehensive strategy document, with a return to a 10-team league the flagship proposal.
However, 11 of the 12 clubs need to provide their backing for any change in league structure to be approved and United are against a top 10, along with Kilmarnock and Inverness Caledonian Thistle.
"There are a lot of good things in the SPL strategy document, but we are totally unconvinced that a top 10 is the right way forward," said Thompson when talking to BBC Scotland.
"It's been quite heated round the SPL table at times over the whole issue. Some people have very strong views.
"Everyone is entitled to their view and I'm as entitled as anyone. My family has put £5.5m into this club. But it's not just my view, it's my board's view.
"There are a whole load of issues to be looked at. Not just a league of 10.
"What's to stop us, with a 12, having play-offs now? I don't like the split. This club has suffered by not having another Old Firm game at home this season, for example.
"We were third in the league last year and won the Scottish Cup - and our crowds were down nearly 10%. It's a very tough world for people - football is too expensive."
The SPL has twice postponed a vote on its proposals for reconstruction and was hoping to see a favourable show of hands later this month.
Thompson is unaware of any planned meeting of the top-flight clubs but spoke of the need to resolve the issue one way or another.
"We're only three months from the start of next season and people are still talking about voting on relegation for next year," he explained.
"We have to end the uncertainty. Clubs are putting budgets in place."
The United chairman pointed out what he believes are the drawbacks of having only 10 teams.
"They say we'll get a better TV deal, bigger crowds, it will be more exciting, etc," said Thompson.
"Play-offs most certainly make it more exciting. Tenth gets relegated and 8th and 9th go into a play-off. That might be good for neutrals, but it certainly won't be if your club is involved.
"We need a TV deal. Without one, Scottish football is finished, but I think we've had 40 different kick-off times since the SPL was formed.
"12.15 on a Saturday or Sunday, you can't sell commercial hospitality, the fans don't turn up and people can't plan. We hardly ever get three o'clock on a Saturday now.
"The priority will be to get away from the bottom of the league from day one and it will be pretty cut-throat."
Thompson is not convinced by those who have warned that the SPL proposals are the only way of saving Scottish football.
"I don't think the game is anything like as bad as people make out," he added.
"If we keep saying the game is bad, people will start believing it.
"Yes, it's tough and there are things wrong with it, but I still think the future is bright."