Alan Hansen on Manchester United v Chelsea
By Alan Hansen
BBC Sport football expert
Last updated on .From the section Football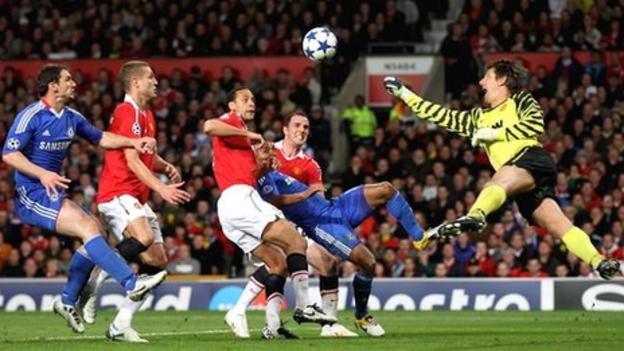 I think both Manchester United and Chelsea will look at the subplots surrounding events and say: "We didn't expect to be in this situation going into this game."
The big psychlogical difference is that United are unlikely to have foreseen the scenario where Chelsea could go above them with two games left if they win, while Chelsea have got an opportunity I think even they themselves would not have imagined a few weeks ago.
Examine the facts, United are three points clear and have a game against their closest rivals on the home territory where they have such a phenomenal record, and only an idiot would bet against Sir Alex Ferguson's side at this crucial stage of affairs.
United are still in command of their destiny but there will be pressure on them now and that is what it is all about at this stage of the season - the pressure points in these big games and how you react to them.
Even Chelsea coach Carlo Ancelotti was close to admitting defeat in the title race not so long ago - when did United ever lose a 15-point lead as we moved towards the business end of the season?
No coach with Ancelotti's pedigree and experience or team of Chelsea's quality ever gives up when there is even the slightest possibility of claiming the title and they have kept winning, eating away into that commanding lead United had just a short time ago.
They have given themselves a real chance and events last weekend will have lifted spirits significantly. All they could have asked was to go to Old Trafford with the opportunity of winning and going back to the top of the table. Now they can.
Not a soul in the United camp, and certainly not Ferguson, would have been suggesting the title was done and dusted even when they opened up such an imposing advantage, but they will have been very confident.
United will be under pressure because there would have been a sense not too long ago that no-one was going to catch them. There would have been no complacency at United - that will never happen with Ferguson in charge - but at the back of their minds would be the growing feeling that the job was getting done.
Ferguson would have been expecting the teams around United to drop points, but Chelsea haven't and as a consequence have revived their title hopes. They certainly got the benefit of debatable decisions against Tottenham to win on Saturday but they won't worry about that as it enabled them to put pressure on United, pressure that increased when United lost at Arsenal on Sunday.
As I said last week, this is not about expecting world-class flowing football in the closing weeks of the season, that hardly ever happens. It is about getting results and this is exactly what Chelsea have done and suddenly the prize has come back into view after previously looking a distant prospect.
Chelsea are not playing as they were when they made a flying start to the season, but they have kept going in the face of what looked to be mounting odds and Old Trafford now has a real spectacle on its hands on Sunday.
If Chelsea win against Feguson's side their confidence will be even higher. They have got a very dangerous and difficult last game of the season against Everton at Goodison Park but the mood will be so buoyant they will be filled with self-belief about the possibilities of winning a title they probably thought was lost.
So now the dilemma facing Ancelotti is one that is becoming increasingly familiar. Should he play Didier Drogba or Fernando Torres at Old Trafford or should he play both?
There are 50 million reasons why he should play Torres but I don't think anyone can put up much of a case against the argument that Chelsea just look a better side with Drogba playing in a 4-3-3 formation than when Ancelotti attempts to shoehorn both strikers into a 4-4-2 set up.
And of course Ancelotti went with Torres in the Champions League quarter-final secong leg at Old Trafford, with dismal results. Torres was substituted after 45 minutes and the wisdom of the decision was questioned further when Drogba scored and provided a real threat in the second half.
Drogba is stronger, more physical, scores more goals, is more confident and is a danger either taking free-kicks and getting on the end of them. Fernando is still struggling despite finally getting his first Chelsea goal against West Ham United - he was substituted against Spurs on Saturday and rightly so.
The Ivorian is the better player at the moment and I would go with him. Torres was phenomenal in a golden 18-month spell at Liverpool but in the last 18 months he has been a shadow of that player. Who am I to say he will never get back to that brilliant best? What I will say is that I'm not sure he will do it by Sunday.
United will still be positive though as they have a lead with games running out and have a wonderful home record at Old Trafford this season. They have experience over the course and distance but Chelsea are no strangers to winning titles themselves in the last few years and will also feel they have what it takes to get the job done.
The fact that a game of this magnitude will be played out in front of United's home fans will give them added confidence, but there is no getting away from the fact that it is highly unlikely that they thought they would be in a position of possibly losing the title if they lost this game.
How both sides handle the pressure will be key. There is no doubt teams play a lot better when they are 10 points clear with three games to go than if they face the possibility of dropping to second if they lose.
And all these factors make Sunday's game at Old Trafford one of the most eagerly awaited this season.The meeting between Manchester United and Chelsea at Old Trafford on Sunday may not turn out be a footballing classic - but it will be a classic when measured in terms of tension and pressure because the Premier League title is potentially the prize at stake.
Alan Hansen was talking to BBC Sport's Phil McNulty.