Sir David Murray backs new Rangers owner's cash promise
Last updated on .From the section Football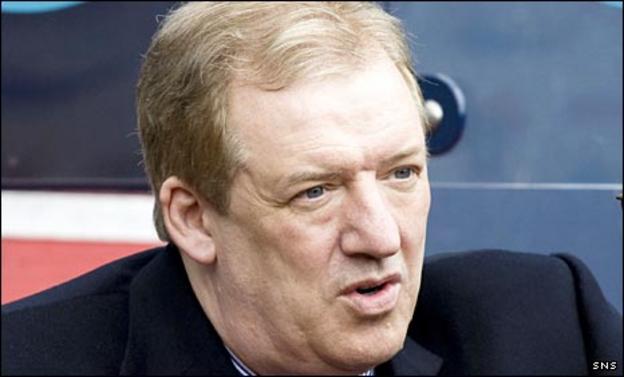 Sir David Murray ended his 23-year reign as Rangers owner saying he sold Craig Whyte his shareholding for £1 in return for assurances over investment.
"The transaction provides for funds to be immediately available with £5m of investment in the playing squad," said Murray International Holdings.
There would be "further money available for the infrastructure of the stadium and working capital".
"From a personal perspective, today is the end of an era," said Murray.
"I have had the privilege of being the majority shareholder of our great football club for over 22 years.
"During this time, we have seen many highs and lows together and I trust that the successes will continue for many years to come.
"I have worked with numerous talented directors, players and staff members, whose support and endeavour have assisted in our collective success.
"Finally, I must thank our loyal fans, without whom the club would be unable to survive.
"They are, and will remain, the backbone of our history, and of our future."
Murray, who bought the club for £6m in 1988, completed the sale to Motherwell-born venture capitalist Whyte after six months of negotiations.
Rangers' independent board committee, which includes current chairman Alastair Johnston, issued a statement soon after voicing their doubts about Whyte's ability to invest sufficient funds in the club.
However, MIH believes it has secured a deal that is in the best interests of the Scottish champions.
"Over the last few years, MIH has received interest in its controlling stake from a number of parties," it stated.
"However, the board of MIH has previously been unable to secure an offer which it considered to be in the best interests of the club, its shareholders and its fans.
"Following detailed negotiations and discussions with Craig Whyte, MIH now considers that an agreement has been reached which satisfies these criteria."
MIH points out that Whyte's Wavetower company had "stated its intention to invest a further £20m over a four-year period".
"Wavetower will also acquire the indebtedness of Lloyds Banking Group, the secured creditor, and is under an obligation to waive this debt in the foreseeable future, thereby strengthening the club's balance sheet," it adds.
"MIH is receiving £1 for the sale of its controlling shareholding.
"MIH and its executive chairman, Sir David Murray, have agreed terms attaching to the sale of its stake in the club that ensure an immediate and substantial improvement in the club's financial position as well as a significant investment in the club and its playing squad."