Whyte has job on his hands, says Rangers manager Smith
Last updated on .From the section Football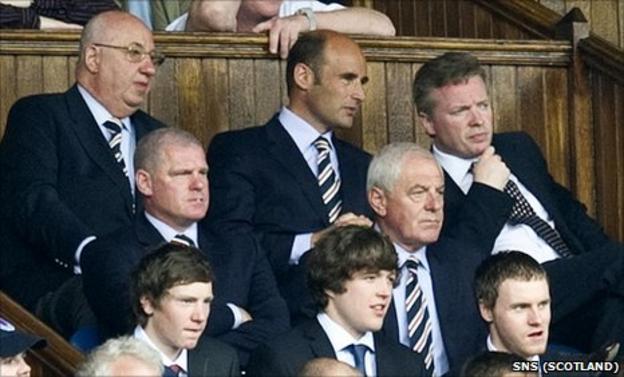 Rangers manager Walter Smith has welcomed the conclusion of the long-running takeover of the Ibrox club.
And Smith, who is leaving in the summer, believes new owner Craig Whyte has a hard act to follow after acquiring Sir David Murray's shares.
Speaking after the 4-0 victory over Hearts, Smith said: "I'm glad it's settled now. That was an important thing for the club.
"He's got a job on his hands to be as successful as the previous owner."
Whyte, who sat in the directors' box with Smith for the match against Hearts, started his takeover bid in earnest last November and it was finally completed on Friday evening.
However, Smith was not overly concerned about the possibility of it proving a distraction for his players as they try to defend the Scottish Premier League title.
"I thought maybe just in the morning of the game it might have but we're experienced enough this season, we've been getting taken over since Christmas," said Smith, whose side lead the league by four points ahead of Celtic's game in hand against Kilmarnock on Sunday.
"We've had headlines like that on a lot of match days. It always seems to be on the match days as well.
"I don't think that that affects a great deal at all."
Smith first became Rangers manager in 1991 after Murray promoted him from his assistant's role in the wake of Graeme Souness's departure.
After a highly successful spell, Smith left Ibrox in 1998 but was persuaded to return to the club eight-and-a-half years later to pick up the pieces from Paul Le Guen's ill-fated reign in the Ibrox hotseat.
"You're in a very difficult position as owner as a club like this when you have to continue to raise a level of money and it's not always easy," said Smith as he reflected on former chairman Murray's reign as owner.
"He's worked hard at that and the club have had great success over the time that he's been at Rangers and I don't think supporters or anything like that can ask for any more than that.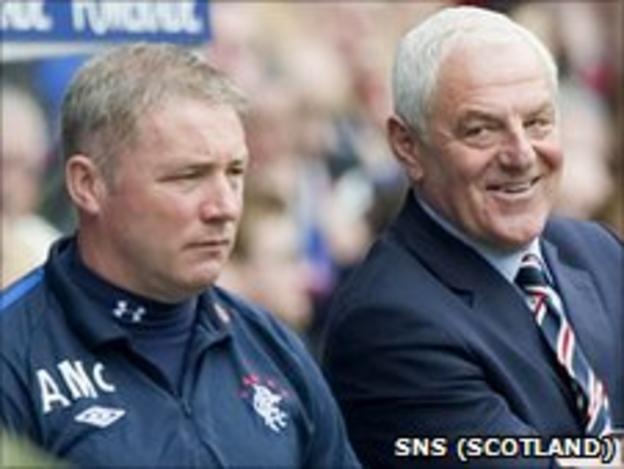 "Normally when a manager leaves, it's the owner that chooses but in this case not.
"When I came back and he asked me to come back it was with a view of the club being sold and for me to leave at the same time as him.
"It didn't work out the way I think either of us expected but it ends up with us leaving just about the same time."
Smith's assistant Ally McCoist will assume the manager's role next season and the boss-in-waiting is also pleased to have the ownership issue settled.
"Obviously, we're delighted it's come to a conclusion," said the former Rangers striker. "We're all delighted the long process has come to an end and we can look to the future.
"I'm sure Mr Whyte's got hopes and aspirations for the club, the same as we all have, and it'll be very good to sit down and have a chat."
Meanwhile, Smith urged his players to maintain their focus as they look to secure a third straight title success with victories in their last two games.
"I'm really pleased with the way we played (against Hearts)," added Smith.
"At the start of the game it looked as though it was going to be quite open.
"Once we got the first goal we settled, then the second one. After that we restricted Hearts to few opportunities and I'm delighted with the way we played.
"Of course there is (work to be done). We've got the league championship back in our own hands - it still means the same thing as it was when we hadn't, we still had to win our three games to have any hope of winning the championship.
"We now know that if we win our two games we will win the championship so that's what we've got to set out to do.
"It's never straightforward but it's exactly what we have to do."