Kevin Kyle determined to maintain Hearts playing career
By Brian McLauchlin
BBC Scotland
Last updated on .From the section Football
Hearts striker Kevin Kyle is confident of resuming his career at Tynecastle despite a persistent hip injury.
Kyle, 29, successfully returned from hip surgery six years ago and his specialist believes he is on course to do so again after a recent procedure.
"I've not had that many injuries but the two I've had - the hip injuries - have been quite serious," he said.
"But it's all repaired now. I'm on crutches for six weeks then for seven weeks it's building up the muscles."
The former Scotland striker hopes to be back playing in maroon in the early part of next season, but first he has to complete his rehabilitation regime.
He told BBC Scotland: "After 13 weeks it's running and, once running is comfortable, it's a case of how quickly I can get fit. That will coincide with July or August."
Asked if he worried his career was under threat after his second operation, he admitted: "Definitely. Those thoughts are still in my head just now.
"With the experience of 2005 I tend to become paranoid when I get injured.
"I'm fortunate that I'm 30 in June. It would be worse if I was going to be 20. It was worrying. I was wondering if I would need to pack it in.
"Since the 1 January it's been torture. I've had a kid and the missus is at the end of her tether because I can't help round the house."
Kyle felt a pain in his groin in the New Year's Day win over Hibernian, a match in which he scored the winner, and surgery has since identified, and hopefully rectified, a hip problem similar to one he suffered when at Sunderland in 2005.
"I turned and felt something sharp in my groin. Being a derby game I just got on with it," Kyle recalled of the Edinburgh derby.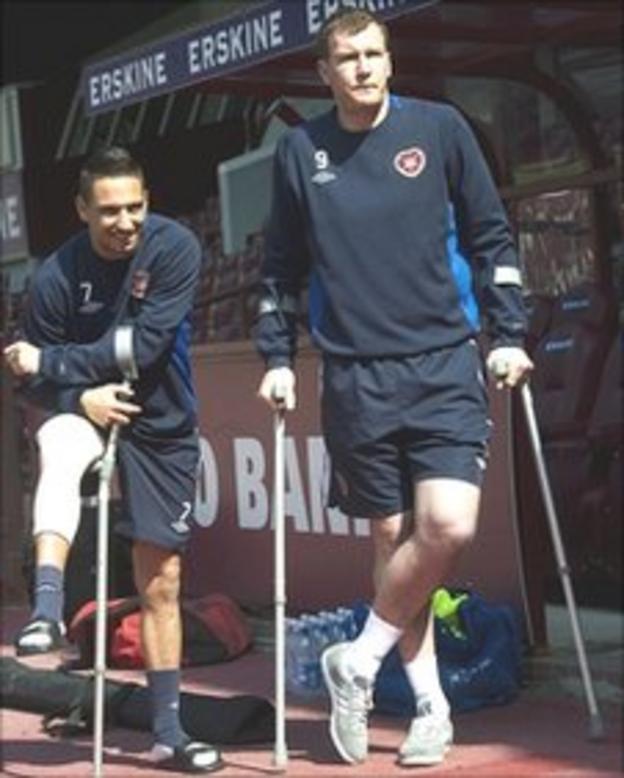 "I thought nothing of it, but 10 days later we played against St Johnstone and I struggled.
"I tried my best but enough was enough. I went for a scan and nothing showed.
"I had injections into my groin and 14 weeks later saw a hip specialist. He wasn't too sure either but he was reluctant to go in there because of surgery I'd had in 2005. He was keen to avoid surgery.
"I saw this guy in London. He thought it was my hip. He gave me another injection and that took away the pain.
"He said it might last 6-18 months but it lasted me three or four days and the pain came back, so it indicated it was my hip.
"I had 16 or 17 injections into my groin, pubis and back. I've been all over the country - Coventry, Leicester three times, London twice.
"I had always had this inclination it was my hip, although since 2005 until now I have never had a problem with my hip."
Kyle has been a hit with the Hearts fans since joining last summer and has been frustrated to miss the second half of the season.
But he has endured a spell out of the game before when playing in England.
He said: "When I was at Sunderland in 2003 I started getting similar pains in the groin, but it was hip wear. I had these bony growths.
"I had claimed the insurance and was ready to pack it in."
While with the Scotland squad, manager Berti Vogts suggested that he should see a specialist in Germany, who spent 10 days analysing him before sending him to another specialist surgeon, this time in America.
"He told me, 'Dr Philippon is the only guy who can fix you,'" said Kyle.
"I went over there and he said, 'I see this problem every day. You've got a degenerative hip, it's just wear and tear over the years. You've got a little bit of arthritis but I've tidied it up and you'll be fine.'
"He said, 'Four months rehab and you'll be back playing.'
"Sure enough, four months to the day we had an FA Cup tie against Brentford. Mick McCarthy put me in the game. I had a stinker!"
For six years Kyle had no problem with the hip - until the beginning of this year.
On this occasion, a surgeon in Bradford performed the operation to make new tissue grow and to try to repair the effects of frayed cartilage, arthritis and wear and tear.
This surgeon told Kyle that he is confident that he will get back playing, though he may have some discomfort initially.
Kyle added: "With [former club] Kilmarnock I only missed four or five games in a 50-game period and three or four of them were through suspension.
"Up until the St Johnstone game, I didn't miss a game. It's been a blow.
"The surgeon said if it doesn't work, you're going to struggle. The rehab each day is long. I've got to sit on a bike and pedal two lots of 45 minutes just looking at a blue wall. It's horrendous.
"It's good to be involved at the club again. I can feel a difference.
"I feel confident that I will be back playing and helping my team-mates again. I'm the worst spectator in the world.
"I know I'll get back and hopefully it will be at the beginning of the season and, touch wood, it will be the end of the hip problems."
Kyle's determination to get back to terrorising defences in the Scottish Premier League is aided by his fondness for Hearts.
"I settled in quickly here," he said.
"The fans have taken to me because of the way I play for the jersey. I am desperate to get fit and extend my stay here. It's a fantastic club."