Swansea and Cardiff ride play-off rollercoaster
By Peter Shuttleworth
BBC Sport Wales
Last updated on .From the section Football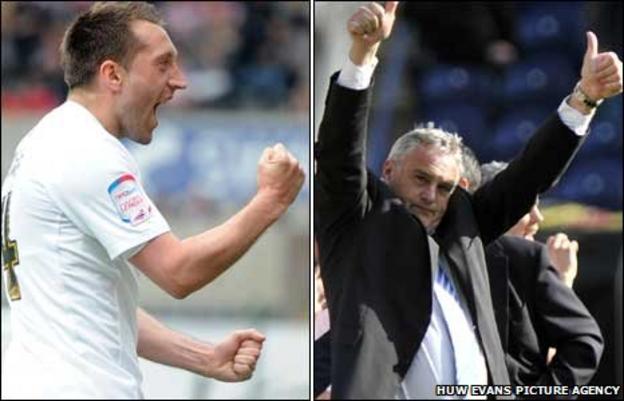 It is 'mind over matter' in the play-offs - and when it matters most, the bookies are edging towards an all-Welsh Championship play-off final.
But teams from the land of my fathers have a dismal record in end-of-tournament play-offs whether it is Wales' club sides or the national team.
Welsh teams have hit the jackpot on just three occasions from 13 play-off appearances so maybe the odds should be stacked against Swansea and Cardiff joining Queens Park Rangers and Norwich City in Premier League promotion.
The Swans have beaten Nottingham Forest in their two-legged play-off semi-final, part one of which was on Thursday at The City Ground.
That ended 0-0, but in the second leg the Swans triumphed 3-1 in a pulsating encounter at Liberty Stadium.
Cardiff, meanwhile, progressed to a higher division just once in their four previous play-offs.
Those statistics may possibly explain the "doom and gloom" in south Wales that Cardiff captain Craig Bellamy has spoken about as the two teams fight it out in the nerve-shredding rollercoaster of the play-offs if a Welsh club is to make the Premier League breakthrough this year.
"Play-offs are evenly matched due to their league positions," said former Wales international Andy Legg, who appeared in the play-offs for both Swansea and Cardiff.
"But whoever maintains their concentration for the whole tournament will win the ultimate prize.
"My first play-off was with Swansea against West Bromwich Albion in 1993, a late own goal cost us in our home leg as it give them hope.
"West Brom then scored early at The Hawthorns to gain momentum. Then we had a player sent-off and the tie was gone.
"Irresponsibility by a few players cost us that tie as we should have won it. The play-offs are often about mind over matter."
Play-off appearances by Welsh teams are littered with lapses at crucial times.
Remember Swansea losing in the last minute to Northampton Town in the 1997 Third Division play-off final courtesy of John Frain's re-taken free-kick - the only other time the two south Wales clubs shared the same play-off bill.
Then there was the time that Cardiff, after winning their away leg, were seemingly coasting into the 2002 League One play-off final until Stoke City's James O'Connor levelled the tie with virtually the last kick of the game and Souleyman Oulare won it for the Potters in extra-time.
Cliff Jones scored in the first - and arguably most memorable - occasion a Welsh side celebrated play-off glory when Wales qualified for the 1958 World Cup, still the only time they have reached a major finals, by beating Israel in a two-legged clash.
"The key to winning play-offs is having the right mentality," said the legendary double-winning Tottenham Hotspur winger.
"We had fantastic individual players like Ivor Allchurch and John Charles but without a great work ethic and confidence, even the best players can fail and disappointments can happen.
"Big games should inspire you, you are there on merit but you must remember that hard work got you there. In my experience, play-off teams must have total commitment from the off, start with a good tempo and put frighteners and doubts into the opposition.
"Confidence is everything because if you play such a crucial game with fear, then you are almost beaten before you've started."
There is, of course, the prospect of an all-Welsh play-off final at Wembley on 30 May, with Swansea hoping to end a 28-year absence from the top flight, and Cardiff hoping to make it there for the first time in 49 years.
Bellamy is one of an elite few at Wales' two top clubs to grace the Premier League consistently over recent seasons and Cardiff's talisman insists the play-offs are just a taste of the pressure players will face in the top-flight.
"I can understand why there are negatives after what happened in the final last year," said Bellamy referring to Cardiff's 3-2 Wembley beating by Blackpool.
"I speak to people and they say: 'don't let it be the play-offs again' and I feel like physically shaking these people. It is a huge honour to be in them as there are bigger clubs than this who are expected to be in the Premier league who are not achieving anything in football.
"It needs one of us to get into the Premier League to lift Welsh football onto another level. It will do such much for the community, it is what this area needs.
"I much prefer pressure. That is the environment you want to be involved in. You look at the top players of the top clubs, they are involved in that on a week to week basis.
"That's what you want in football and you have to be able to deal with the pressure and embrace it.
"But if you take your eye off the ball in football, it doesn't matter who you are, if you're not concentrating... then you will fall short.
"This is an opportunity to write history...and bring so much happiness to so many people. You have to surely want to embrace that. It is the opportunity of a lifetime but you must be brave enough to take the next step."