Craig Bellamy leads Cardiff by example, says Gary Speed
Last updated on .From the section Football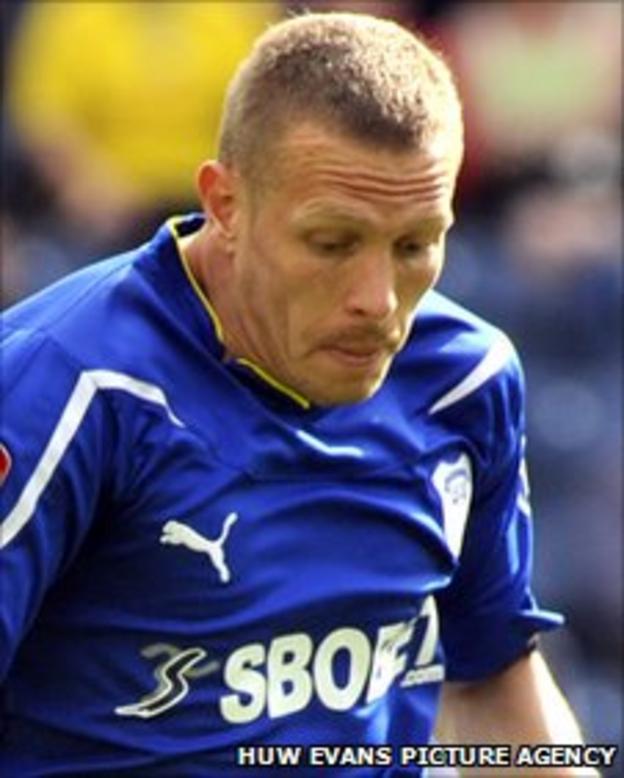 Wales boss Gary Speed believes Craig Bellamy's influence will be vital in Cardiff City's bid to reach the Premier League.
The Bluebirds will be away to Reading in their Championship play-off semi-final first leg on Friday night.
The 31-year old Bellamy, on a season long loan from Manchester City, has scored 11 goals for Cardiff this season.
"The important thing about Craig is he plays by example," said Speed.
"If I was a young player playing for Cardiff City in the same team as Craig Bellamy, I would be watching his every move.
"Craig's been fantastic for Cardiff all season. [I] still think he should be playing in the Premier League.
"Hopefully he can do that next season with Cardiff."
Assessing Cardiff chances ahead of the semi-finals, Speed believes Reading will prove tough opponents over two legs.
The Royals finished fifth and secured a second play-off place in the three seasons since their relegation from the Premier League.
"They've been there for the past couple of weeks but their run of form prior to that has been excellent," said Speed.
"I speak to Brian [McDermott, Reading manager] quite a lot and he's a great guy.
"It's going to be difficult for Cardiff. What they've got to do is take their experiences from the last few years.
"[They] still have a lot of players who have been through that and make sure the last couple of games that they have played they don't take that into the play-offs.
"Cardiff can have a clean slate now and forget the last home game [the 3-0 defeat against Middlesbrough] and play in the play-offs like we know they can play."
Cardiff's south Wales rivals Swansea finished third in the Championship following a 4-0 win over Speed's former club Sheffield United on Saturday.
Their opponents in the semi-finals will be Nottingham Forest and Speed believes playing at the City Ground in the first leg will suit the Swans.
"I'm pleased they are at Forest first," said Speed. "Billy Davies is a smart cookie. If Forest [were] away from home first I'd fear a bit.
"But the fact that Forest are at home first, I think that's to Swansea's advantage.
"Obviously they're on a good run of form so hopefully they can get through that."
Speed, as national team manager, admits he would have split loyalties if Cardiff and Swansea were to face each other in the final.
"If we get a Swansea-Cardiff final that would be great," said Speed. "In an ideal world I'd want them both to go up.
"But as long as one of them goes up, that would be great."