Hearts manager Jim Jefferies not for resigning
Last updated on .From the section Football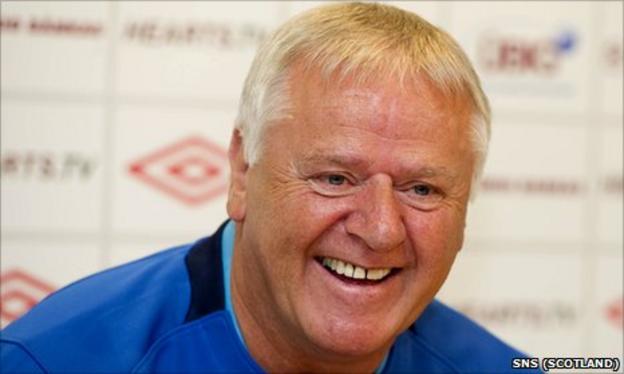 Jim Jefferies intends to remain as Hearts manager despite the interference of majority shareholder Vladimir Romanov in team selection.
Romanov withdrew Marius Zaliukas from Saturday's match against Rangers in case the player was red-carded.
Zaliukas has been sent off twice by referee Iain Brines since 2008 and Romanov feared a repeat at Ibrox.
"There's no way I'm resigning," said Jefferies. "I'll come in here and I'll learn from that experience."
Jefferies told Zaliukas of the decision after a phone call from Lithuania before Saturday's game.
The Hearts captain's replacement on Saturday, Eggert Jonsson, was red-carded by Brines with 30 minutes remaining of the match.
However, Zaliukas will return to the squad to face Celtic on Wednesday and Jefferies dismissed any suggestion that Romanov's decision would force him to quit as manager of the Edinburgh club.
"There were rumours going around on Saturday - I was getting texts from my son that I'd resigned," said Jefferies.
"Yes, I was disappointed the way we were a bit short at the back, but the rumours that were flying around weren't true."
Zaliukas was also frozen out of the team until October as he stalled on accepting a permanent contract offer.
However, the player was eventually brought back into the side and agreed a new deal in November to keep him at Tynecastle until 2013.
The 27-year-old joined Hearts from Kaunas, who are sponsored by Romanov's bank Ukio Bankas, on-loan in August 2006 and quickly became a regular in the first team.
Jefferies appointed him as club captain last summer following the departure of Michael Stewart - despite the player failing to agree a new deal.
Keeper Marian Kello has also been out of the team of late due to an undisclosed "private matter" but will also feature against Celtic on Wednesday night.
Romanov is set to travel to Edinburgh and attend the match and will meet Jefferies for discussions about the future of the club.
The Hearts boss, whose main dealings with Romanov are through Hearts director Sergejus Fedotovas, added: "I'll meet him like we always do.
"If there's time before the game we'll do it, or if it's the day after - we'll be discussing going forward.
"If I've got any problems I'll not be sitting here discussing it with you - I'll be discussing it with the owner and Sergei."