Homage to San Mames
By John Sinnott
Senior Broadcast Journalist
Last updated on .From the section Football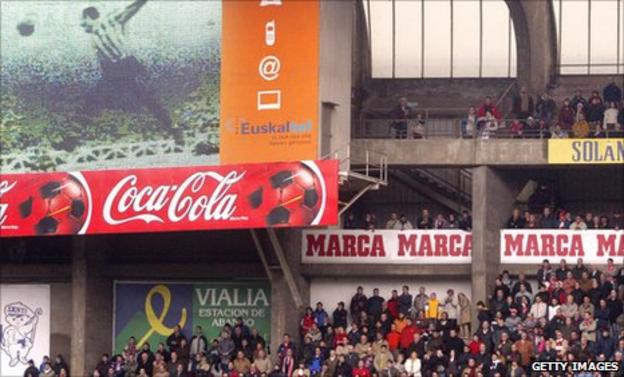 A visit to Athletic Bilbao's San Mames stadium is to step back in time.
"The Cathedral" is a ground that has the ambience of your favourite old pub before it was upgraded and rebranded as a gastropub. Worn and frayed round the edges and in need of a lick of a paint - actually make that a few coats - the ground could not be described as an architectural masterpiece.
To be honest it is bordering on the ugly - a reminder of an Archibald Leitch ground minus the Scottish architect's Art Deco flourishes.
Like so many old-fashioned British grounds, the stands at Spain's oldest stadium - built in 1913 with money provided by the club's members - almost spill on to the pitch, with the most notable feature a Wembleyesque arch that straddles the main stand, as if to provide a halo effect for "The Cathedral".
However, those architectural deficiencies are more than compensated for by San Mames' atmosphere, which even for the visit of mid-table Levante on Saturday was still very much in evidence.
What makes this ground so special is the 40,000 supplicants that come every other week to a stadium that is always ready and willing to share its unique history and atmosphere with the initiated and uninitiated alike.
In the Guggenheim museum - one of Bilbao's other cathedrals - is American artist Paul Pfeiffer's video installation artwork The Saints, which examines the power of crowds by using footage of England's 1966 World Cup win over West Germany.
It's a disturbing work with a split screen showing footage of the final on the right of the screen, while the left side shows documentary footage of a crowd of men from the Philippines, imitating the 1966 Wembley crowd's chants and noise.
There is nothing disturbing about San Mames' atmosphere, though it is no less powerful, exuding friendliness but above all pride in a club that is the property of its fans and a symbol of the Basque region. Perhaps an attitude that explains why another unique symbol of Basque identity - the Mondragon Group - is the world's largest industrial co-operative.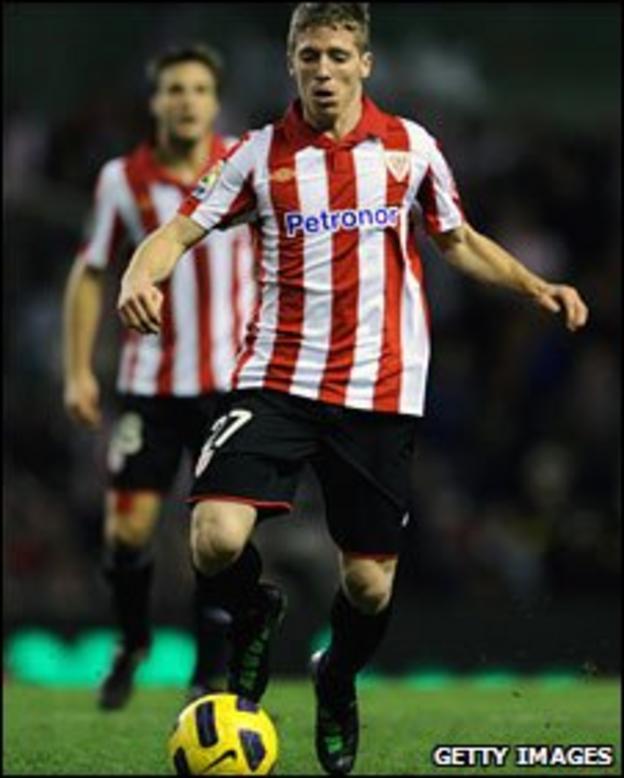 That warmth was much in evidence when the young star of this Athletic side Iker Muniain was substituted after a show-stopping performance. The crowd rose as one to give him a standing ovation, the warmth of applause rippling down the stands in acknowledgment of a hugely energetic and skilful player who was developed by the club's cantera (youth development scheme) as if to say this is a player that symbolises everything which Athletic represents.
But if you want to sample one of football's most authentic experiences, be quick.
"The Cathedral" will not be in existence for much longer as Athletic are due to move to a new stadium - the 55,000 capacity San Mames Barria - which will open in 2013.
Costing around £200m the new stadium is being built a stone's throw away from San Mames on wasteland previously occupied by the Bilbao International Trade Fair.
Construction got under way in May 2010 with a ceremony that saw a piece of San Mames' turf as well as a tile of the old facade taken from the old ground and put in an urn for posterity to "preserve forever the elements of the present for a stadium of the future".
On Saturday what was striking was how many women and very young children were among San Mames' 40,000 spectators.
One heavily pregnant women - dressed in dungarees and an Athletic shirt to more comfortably accommodate her growing child - fondly stroked her belly, as if to subliminally inculcate a memory of what San Mames was like to her offspring that will never sample its delights.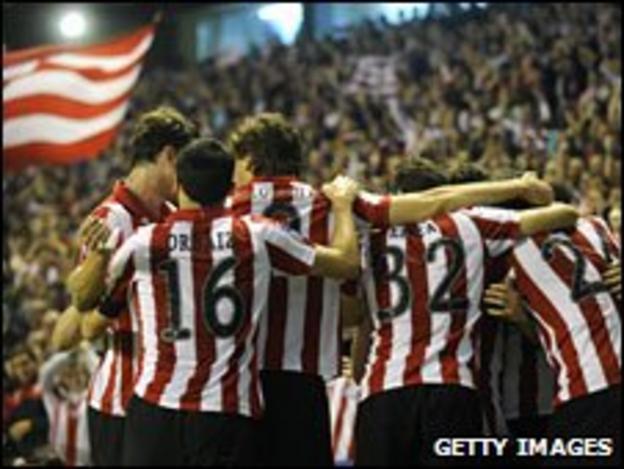 After the game, at a nearby restaurant, a group of women, dressed up for a night out, included in their party a woman whose outfit was topped off by an outrageously long Athletic scarf. Being a supporter of the club is clearly a 24/7 business.
In the bowels of the stadium there are photographs of past sides and players - sepia-tinted images reminding its fans that Athletic are one of only three clubs which have never been relegated from La Liga.
My favourite photograph was one of thousands of Athletic fans in a flotilla of boats on the river that runs through Bilbao celebrating the 1984 title, the last time the club won La Liga.
In the modern age the policy of developing young Basque players and only picking players native to the Basque region - that's born in or with Basque parents - has seemingly virtually discounted the club from winning the league.
But arguably Athletic have constructed something more invaluable and intangible, to maintain a principle because of a belief that this is the right thing to do.
Saturday's 3-2 win over Levante strengthened Joaquin Caparros' side push for Europa League qualification.
Athletic went 3-0 up, inspired by Basque boy wonder Muniain, a left winger, who has something of Wayne Rooney about him. Muniain created Athletic's first and third goals with clever passes and whenever he picked up the ball the crowd's expectation and excitement visibly increased.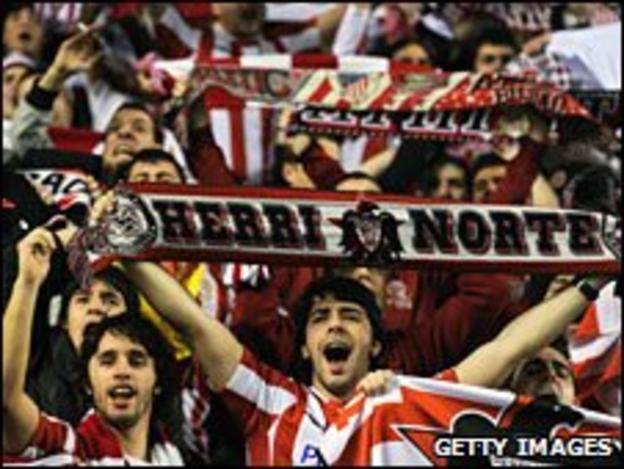 No wonder a few days before, Harry Redknapp, David Moyes, Mark Hughes and Manchester United scout Martin Ferguson had all been in attendance to watch Athletic play Espanyol in Barcelona.
Muniain was ably supported by Gaizka Toquero, David Lopez and Javier Martinez in an attack-minded Athletic side led by centre forward Fernando Llorente, who has scored 17 league goals this season.
Frequently linked with Real Madrid, Llorente did not have the most impressive of games - at times he gave a passable impression of being the Zlatan Ibrahimovic of the Basque country.
Tall, powerful and skilful, Llorente scored Athletic's third goal, but he missed a couple of relatively easy headers and turned in a pretty sedentary performance. Perhaps he deemed that was all that was necessary against a sedentary Levante side, which nonetheless gave Athletic a fright with two late goals.
At that groundbreaking ceremony in May 2010 Athletic president Fernando Garcia Macua argued that the new stadium would allow the club to take "a huge qualitative and quantitative structural step, essential to its survival".
Who knows perhaps the new stadium's arrival and the advent of Uefa's Financial Fair Play regulations could mark a new dawn for Athletic.