Hayatou's 2010 World Cup vote also under question
Last updated on .From the section Football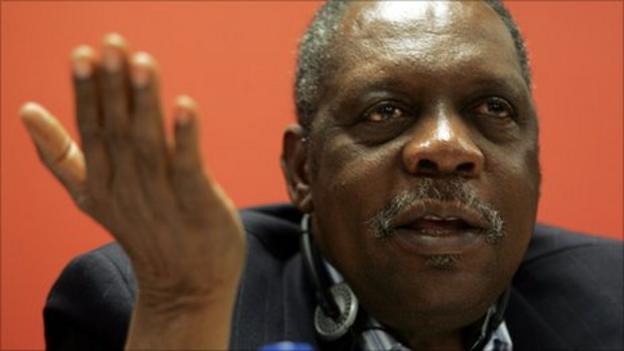 Fresh allegations have emerged against leading African football administrators after the British parliament released previously-unpublished material online.
Caf chief Issa Hayatou is one of four men accused of taking money to vote for Morocco during 2010 World Cup bidding.
Earlier, Hayatou and fellow Caf member Jacques Anouma were accused of taking bribes to vote for 2022 hosts Qatar.
The Sunday Times submitted the evidence as part of a parliamentary inquiry into England's failed 2018 World Cup bid.
Fifa president Sepp Blatter has said he will forward any evidence received to Fifa's ethics committee in order to assess whether any wrongdoing has been committed.
The International Olympic Committee has also pledged fo follow up the accusations, with Hayatou having been a member of the organisation since 2001.
"The IOC takes all allegations of corruption very seriously and we would ask for any evidence of wrongdoing to be passed to the IOC's Ethics Commission," said spokesman Mark Adams.
Former Fifa executive committee member Ismail Bhamjee reportedly told the Sunday Times that Tunisia's Slim Aloulou and Amadou Diakite of Mali had also received money from the Moroccan federation.
Bhamjee himself was also accused of taking money to vote for Morocco - by Oceania's former Fifa executive member Ahongalu Fusimalohi.
Fusimalohi claimed that the Botswanan had told him that he (Bhamjee) had taken Morocco's money in return for his vote.
Like Aloulou and Diakite, Bhamjee no longer holds any administrative positions with Caf.
In October, the Sunday Times alleged that Caf officials had received money for voting for Morocco but failed to name the individuals.
South Africa won the right to host the 2010 finals when beating off competition from Morocco and Egypt in 2004.
African football's ruling body has yet to comment on any of the allegations made at the British parliamentary inquiry on Tuesday.