Inverness Caley Thistle boss wants Adam Rooney to stay
Last updated on .From the section Football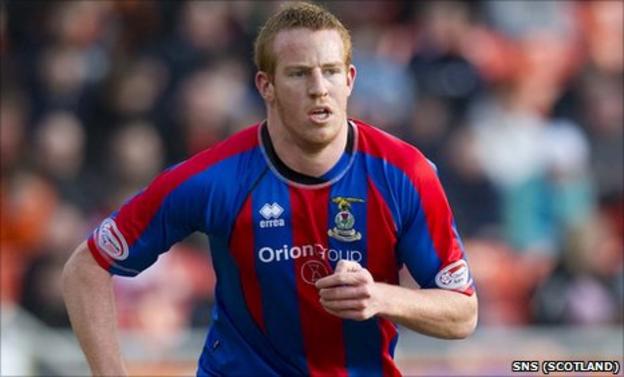 Inverness manager Terry Butcher has promised in-demand striker Adam Rooney his career will improve if he remains with the Highlands club.
Rooney, 23, has netted 20 times this season and has been linked with several other Scottish clubs when his contract expires at the end of the season.
"I think he is a much better player now and I think he can get miles better," said Butcher.
"And I think he can get miles better for us."
The former Stoke player took his tally to the season up to 20 when he scored the only goal against St Mirren on Tuesday night, after hitting the woodwork twice.
Such form will inevitably attract clubs with bigger budgets than Inverness, but Butcher believes there are several reasons Rooney should stay.
"It's a difficult one because Adam is aware of interest," the former England captain said.
"I don't know the ins and outs but he is very much being spoken to by other clubs and agents.
"He'll have a touch choice to make because I'm sure there will be a lot of clubs who want his signature.
"But can a lot of clubs give him that he has here? I don't mean financially, he'll probably get double, treble or quadruple what he gets here.
"But would he get that satisfaction he gets from playing with boys he knows and for a club he loves?
"You can see he is enjoying his football. He has scored 47 goals in two seasons, which is phenomenal.
"There's a lot more goals to come, I feel, and ultimately a much better product in terms of a better Adam Rooney, after another year or six months with different players.
"We are able to bring up better players now because Inverness are a bigger attraction then they were before."
Butcher has paved the way for an influx of young English talent who he believes can take the club forward after revealing that 10 players had not been offered contracts.
Butcher added: "It's a great option and a great tug on the heart strings.
"We have had two seasons of brilliant success for a club like ourselves, punching well above our weight, it's like a fairytale.
"Adam has been central to that success. he has been top scorer for three years.
"Some of those new players could be at Inverness later this week after the club organised a trial game for free agents.
"The players are paying their way up, which is testament to the faith they have in their ability and their desire to get a contract," Butcher said.