Caf president Issa Hayatou denies bribery claims
Last updated on .From the section Football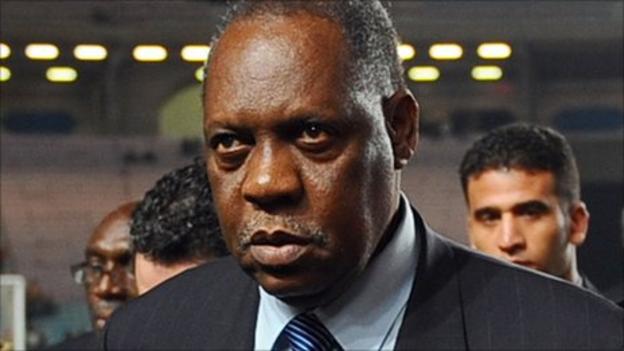 Confederation of African Football president Issa Hayatou has "categorically rejected" allegations of World Cup bidding bribery.
Accusations were levelled against him on Tuesday as the British parliament conducted an investigation into England's failed 2018 World Cup bid.
Along with Ivorian Jacques Anouma, the Cameroonian was accused of taking $1.5m to vote for Qatar's 2022 World Cup bid.
Hayatou described the allegations as "pure invention" on the Caf website.
The claims emerged through evidence submitted by the Sunday Times newspaper as part of a parliamentary inquiry.
Hayatou's rejections of the allegations also cover the accusations that the Caf chief took money to vote for Morocco during the 2010 World Cup bidding process.
South Africa won the right to host those finals, beating North African rivals Morocco and Egypt in the 2004 vote.
"This kind of reporting - to create and propagate false information to destroy his reputation, leadership and integrity - will not succeed," the Caf statement read on its website.
Caf's online portal further stated that the Qatari 2022 bid committee had paid some $1.8m to sponsor Caf's General Assembly in January 2010.
Hayatou also responded to allegations that stated that Guinean Amadou Diallo, said to work for the Qatari bid, was the Caf president's 'chief assistant'.
"Diallo is not a 'charge de mission' (chief assistant) for Mr Hayatou," Caf explained.
African football's ruling body added that the possibility of pursuing legal action has not been ruled out.
"The Caf president is ready to cooperate with whosoever would like to investigate the accusations and reserves the right to seek legal redress against those propagating this campaign of denigration."
On Wednesday, Fifa contacted both the FA and The Sunday Times requesting evidence on the 2018 and 2022 World Cup claims.
Fifa president Sepp Blatter has already said he will forward any evidence received to Fifa's ethics committee in order to assess whether any wrongdoing has been committed.
Four other executive committee members - Jack Warner, Nicolas Leoz, Ricardo Teixeira and Worawi Makudi - were accused of 'improper and unethical' conduct on Tuesday.
The allegations were made by former FA chairman Lord Triesman.