NI fans stick with boycott of Republic and Wales games
Last updated on .From the section Football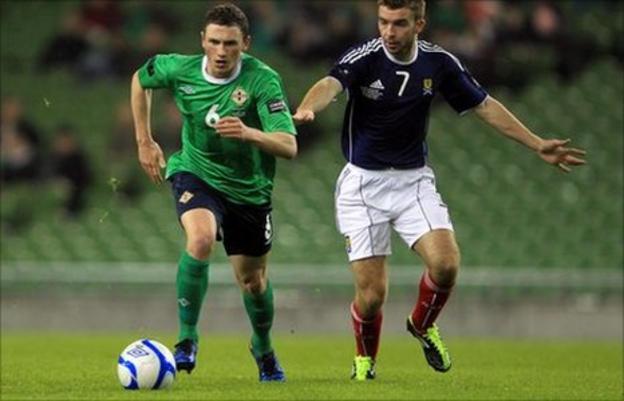 The main Northern Ireland supporters group is sticking with its decision to boycott the Nations Cup games against the Republic of Ireland and Wales later this month.
Northern Ireland fans have been angered by the travel restrictions placed on them for the games in Dublin.
The Irish FA has attempted to ease concerns by reducing the price of the official bus travel to the games.
This has been cut from £30 to £22 but the supporters' stance is unchanged.
"In line with advice from the FAI, Gardai and the PSNI and in the interests of the safety and security of our fans, the sale of match tickets will remain linked with transport to Dublin and the existing arrangements whereby Northern Ireland fans will arrive at a staging post on the outskirts of Dublin prior to transferring to the Aviva Stadium will remain in place," said an IFA statement on Wednesday.
"The original transport fee was based on upwards of 5,000 supporters travelling, and the expected costs in securing coaches from within and outside Northern Ireland and ensuring adequate personnel was made available to ensure the smooth and secure transport of supporters.
"Based on current booking figures, it is now apparent that numbers will be substantially less.
"This will mean that coaches can now all be sourced locally and personnel required to manage this operation will be substantially less.
"As a result we are pleased to advise that the cost of the coach ticket can be reduced to £22 per supporter.
"Refunds will be organised for those supporters who have already booked.
"Provisions will be made for supporters who are travelling from outside Northern Ireland and those who had already booked accommodation before these arrangements were announced.
"Please contact tickets@irishfa.com for further details on this."
However in response, supporters spokesman Gary McAllister said that his organisation "are still encouraging fans not to travel to the upcoming matches".
"This is not simply about cost. It's about how the IFA handled the whole operation, and we don't have confidence working with the organisation for these games," added Mr McAllister.
The travel restrictions have been placed on the Northern Ireland supporters following minor incidents at the Nations Cup opener against Scotland at the Aviva Stadium in February.
McAllister told that BBC Sport that the Irish FA had ignored advice from the supporters group in advance of the February game.