Danny Lennon confident of retaining St Mirren job
Last updated on .From the section Football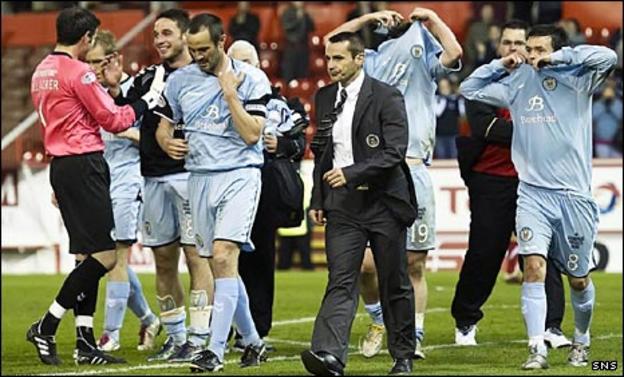 St Mirren manager Danny Lennon does not fear for his job should a community-led consortium succeed with a takeover of the club.
The Buddies avoided relegation after a 1-0 win over Aberdeen, combined with Hamilton Accies' defeat by St Johnstone, on Tuesday.
"Prior to me getting the job, I knew the takeover was happening," he said.
"And the new people coming in were happy enough with my appointment. I've no worries at all there."
Lennon has been happy to allow the takeover to take shape while he concentrated on his side's struggle to remain in the Scottish Premier League.
"I'm not too sure where the takeover is at this moment," he said. "I have been solely concentrating on the football.
"I think there are a few important dates this month for the transfer to go through. We will wait and see if it happens.
"I will just take care of the football side and let that go on in the background.
"The board of directors are very passionate supporters and they have the best interests for this club at heart."
Lennon praised his players for the professionalism they showed in avoiding a tense relegation decider on the final day of the season.
"Obviously the players were worried about their contracts, their security and their families, but it is not just themselves they are playing for," he added.
"They are playing for everyone else at St Mirren Football Club, right down to the cleaners and the kitchen staff.
"It is a big pressure and they are only human beings.
"We had a lengthy chat on Sunday about our fears and how I would take all these fears away from them.
"I told them the buck stops with Danny Lennon.
"I would take responsibility for the last two games and just let the players do what they do best, which is playing football."