FA Cup final: A tale of two Cities
By Alan Hansen
BBC Sport football expert
Last updated on .From the section Football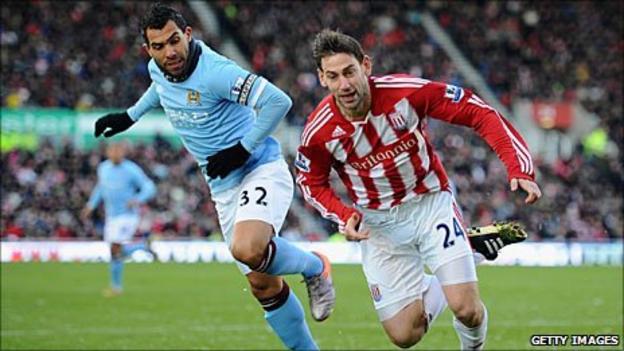 Manchester City and Stoke City will meet in an FA Cup final of contrasts at Wembley on Saturday - a factor that provides a fascinating sub-plot to the great showpiece.
Since Manchester City were taken over by their Abu Dhabi owners an absolute fortune has been spent and you know that sooner or later it will happen for them and they will become an all-powerful force in English football.
Tony Pulis has carefully built Stoke City on solid foundations with sound backing from his chairman Peter Coates to take the club into the Premier League and stabilise them there before reaching the Cup final this season.
Roberto Mancini had managed Serie A giants Inter Milan before arriving at Manchester City while Pulis served his managerial apprenticeship in the lower divisions, an experience that has enabled him to do an outstanding job at Stoke City.
Manchester City have shown they are prepared to spend and lose money in the markets to find the formula and players to get them where they want to be. They enjoyed the first fruits of that policy on Tuesday when they achieved their main priority for this season, a place in the Champions League, with their win against Tottenham.
The FA Cup may be regarded as the icing on the cake after that and, even though the competition may not have the stature it did 20 years ago, the winners will feel every bit as elated now as they did back then.
Manchester City may be hot favourites to land their first major trophy since the League Cup win over Newcastle United in 1976, but anyone who ignores the work Pulis has done at the Britannia Stadium and the evidence of Stoke's recent form writes them off at their peril.
I will go for Manchester City as winners as they are favourites, but I don't see more than a goal in it and it would not be the biggest shock in the world if Stoke continued their recent level of performance and won the FA Cup for the first time.
Mancini's side will feel that if they can compete with Stoke on an equal footing then their greater quality will eventually see them through, but this is easier said than done against a side who can play in addition to fighting for everything.
Stoke's results and performances since reaching the final have been top class, as demonstrated by the way they beat Arsenal last week. And they showed emphatically that the Wembley stage holds no terrors for them with their 5-0 win against Bolton Wanderers in the semi-finals. Pulis and his players will feel that have a genuine chance of winning - and they are absolutely right to do so.
Manchester City may well be expecting success because of the sheer scale of their expenditure, but it has been a long time coming.
They might have liked that first trophy to be the Premier League, but establishing a winning mentality is vital and lifting that elusive first piece of silverware after so many years will foster it.
Continued success is a tough trick to perfect but the road has to start somewhere and the men who have reshaped Eastlands with their financial muscle will hope that starts at Wembley.
And rest assured, once Manchester City's fans are gathered in and around Wembley from early on Saturday morning they will be equally as excited and nervous as their Stoke counterparts at the prospects of winning and losing.
Mancini's position has been the subject of debate throughout the season but I would imagine he is safe for the time being after taking City into the top four, although the pressure to push seriously for the Premier League will increase with every big signing.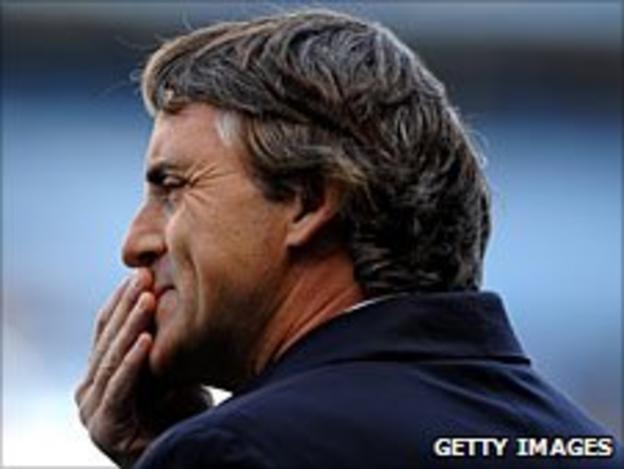 My verdict is that he has done all right rather than brilliantly this season. If you spend, as he did, more than £120m last summer and another £27m on Edin Dzeko in January, then logic suggests you should automatically make it to the top four.
He has achieved that and will now look to spend more in the summer to move Manchester City forward again. They will certainly need to improve.
There are no such problems for Pulis, whose work has made him a prize asset at Stoke and a symbol of a very well run football club with some of the most passionate supporters around.
And we know price tags and reputations on the world stage will not daunt Stoke's players or their manager at Wembley.
Indeed Pulis may have left Goodison Park last Saturday with a little gleam in his eye after witnessing how Manchester City were beaten at Everton in a game they had in their hands for the first hour.
City played magnificently in the first half but once Everton got stuck into them and delivered dangerous balls into the box Mancini's side crumbled. A game they should have had wrapped up was lost and Pulis will have noted how Everton achieved it.
Stoke will put their foot in, be competitive, be physical and get the ball in the box in the air into dangerous positions. If Mancini's team fail to deal with it then there will not be much for them at Wembley.
Manchester City will have to be good defensively because they will get pummelled with balls into the box from wide positions and from Rory Delap's dangerous long throws. As I said, if they don't compete it will be all over for them because Stoke have developed into a good side, and certainly not the one-dimensional unit some would mistakenly have you believe.
I am always happy to repeat the mantras that served us so well at Liverpool and Bob Paisley used to say: "Play to your strengths at all times and exploit weaknesses."
The logic was simple - if Bob thought a team's weakness was the ball into the box, then play the ball into the box; if your strengths lie in certain areas, don't depart from them, play on them. It sounds simple but done effectively it amounts to very good management and that is what Pulis does at Stoke.
Those who decry Stoke for their methods are completely wrong, especially as they can really play as well. There is no reason why Pulis should swerve away from playing to his team's strengths simply because some don't like it or criticise them for it.
He has done a great job at Stoke. He has surrounded himself with a good backroom staff and everyone who goes to the Britannia says how phenomenal the home support is. You cannot underestimate how important it is to have support like that behind you and they will all be out in force at Wembley.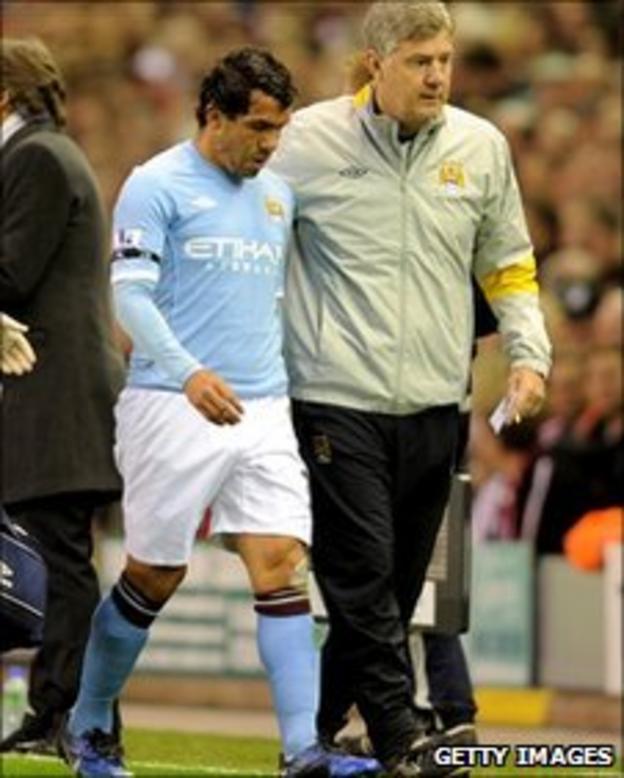 Carlos Tevez's injury has cast a shadow over Manchester City's preparations, but he got a brief run out against Spurs and I think Mancini will play him if he is anywhere near fit. His contribution to the team is enormous - he sets the tone, carries his colleagues with him and there is the not inconsiderable matter of him being a high-class player as well.
David Silva is another of City's gifted stars who could be very influential in Wembley's wide open spaces. I always found it a great place to play and it suits a passing game, which Silva is very adept at. Stoke must devise a plan to contain a player who will pull the strings to devastating effect if you let him.
If there is a cloud over the FA Cup final it is that fact that it is being played on the same day as Premier League games and a day when Manchester United could seal the title with a point at Blackburn Rovers.
It is an absolute joke in my opinion. At a time when the FA Cup really needs a boost it bemuses me how this has been allowed to happen. Could the Premier League games not have all been played on Sunday? Surely the administrators could have come up with a way of avoiding this clash of fixtures.
The FA Cup is not in the same stratosphere as it was years ago, but it is still a huge occasion and we must explore ways to try and get it back to what it was - having Premier League games on the same day is not one of them.
Once it was only the big clubs who used to play weakened teams in the FA Cup , but now everyone is doing it and anyone who has ever played in the final, or any round of the competition, would love to see it restored to something like its former glory.
There has been talk of giving the winners a Champions League place but I don't see that happening - so let's hope Manchester City and Stoke give us a classic Wembley final to demonstrate what a wonderful competition the FA Cup continues to be.
Alan Hansen was talking to BBC Sport's Phil McNulty.