Cardiff can be 'relaxed' - Paul Quinn
Last updated on .From the section Football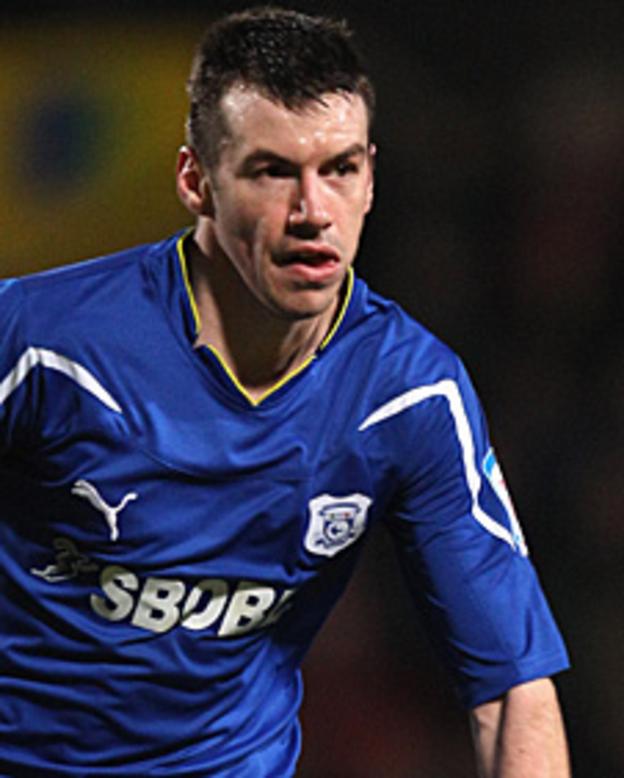 Paul Quinn believes Cardiff can be more relaxed about their play-off hopes than their rivals after missing out in 2010.
The Bluebirds lost 3-2 to Blackpool in last season's 2010 play-off final.
Quinn, 25, said: "The disappointment hurt us last year and possibly could give us a slight advantage on being relaxed, but nothing else."
The Scottish defender played only a minute of the Bluebirds' play-offs last season, against Leicester, on the way to the Wembley clash with Ian Holloway's side.
Quinn says he would happily play only a minute again this time around if Cardiff, who struggled for form in the Championship run-in, were to win promotion having seen QPR and Norwich win automatic promotion.
But he expects to be involved for as long as Dave Jones' side remain in contention and that the emotional roller-coaster that he and his team-mates experienced last time around can hold them in good stead.
Quinn said: "I'm driven by the hurt and disappointment last year. I wasted a full summer and possibly wasted the first month or so getting back pre-season as well, it was difficult.
"People think we're down and low now… we were down and low last season so it's making us more relaxed if anything.
"I feel more relaxed this year because we went through that roller-coaster last season and certainly feel if we do the right things, we can get there.
"It's a strange pressure. There's so much at stake.
"We just need to focus and block everything out - the surroundings, all that it means to the club, the fans and ourselves [and] just concentrate on the football pitch and take it from there.
"And if we do that I'm sure that we're good enough a team and squad to go an prevail through the two games."
The Bluebirds and Royals have drawn twice this season in the league - 1-1 at Madejski Stadium in November and 2-2 in the rematch at Cardiff City Stadium in February.
On each occasion the hostilities continued afterwards in the tunnel, on the last occasion leading to fines for each club.
Quinn dismisses the prospect of any repeat during the play-off semi-finals that conclude at Cardiff on Tuesday, 17 May.
He says the rivals will be focused instead on the task at hand, adding: "People keep telling me who's the favourites, who's not the favourites. There are four 50-50 games, four 50-50 teams whatever scenario.
"Then it's a toss up. We're all good sides as you can see with how tight the league is and now tight the games have been.
"In any order, possibly apart from QPR, the last five spaces there from Norwich to Forest could have been in any order.
"And I wouldn't say that Norwich are better than Reading. I wouldn't say that we are better than Forest because that extra few points… those teams are as good as one another and in fairness been the most consistent outside QPR."