'Tackle Scots' shame' say Celtic after attack on Lennon
Last updated on .From the section Football
Celtic chief executive Peter Lawwell has urged Scottish society to tackle issues behind the "appalling attack" on manager Neil Lennon at Tynecastle.
"We are the only club to be the subject of such vile, sustained and relentless attacks," said Lawwell.
"This is Scotland's shame and it is high time Scotland addressed it. Neil will continue to receive every support and protection from Celtic FC."
Police arrested the man who leapt from a section of the ground containing Hearts fans and ran towards and struck the Celtic boss as he stood in the technical area.
He has since appeared in private at Edinburgh Sheriff Court charged with breach of the peace and assault aggravated by religious prejudice.
Scottish Football Association chief executive Stewart Regan and Scottish Premier League counterpart Neil Doncaster will meet on Thursday afternoon to discuss the incident, while Hearts have opened a full investigation.
Rangers chief executive Martin Bain, whose side are vying with Celtic for the Scottish title, has also condemned the attack.
And Lawwell told his club website: "Last night's appalling attack on Neil Lennon brings shame on Scottish football and again highlights the fact that Scottish society must address fundamental and serious issues which lead to outrages of this kind.
"Apart from last night's events, this week alone we have seen seven people arrested at our training ground following an alleged firearms incident and I can also confirm that this morning another package arrived at Celtic Park which appears to contain ammunition.
"This has been removed and taken by police for further forensic tests.
"It is intolerable that any football club, or individual, going about their lawful business in the name of sport should be subjected to this ongoing campaign of hatred and intimidation.
"Since moving here a decade ago, Neil Lennon has had to endure prejudice and violence both as a player and manager, having suffered no such problems elsewhere.
"In doing so, he has displayed a strength of character and resilience which deserve respect from all who oppose the campaign of intimidation against him.
"He is a man who is proud to be the Celtic manager and is someone who simply wants to be able to carry out his role in the same way as every other football manager can.
"We are deeply appreciative of the intensive police efforts to address the criminal offences that have come to light.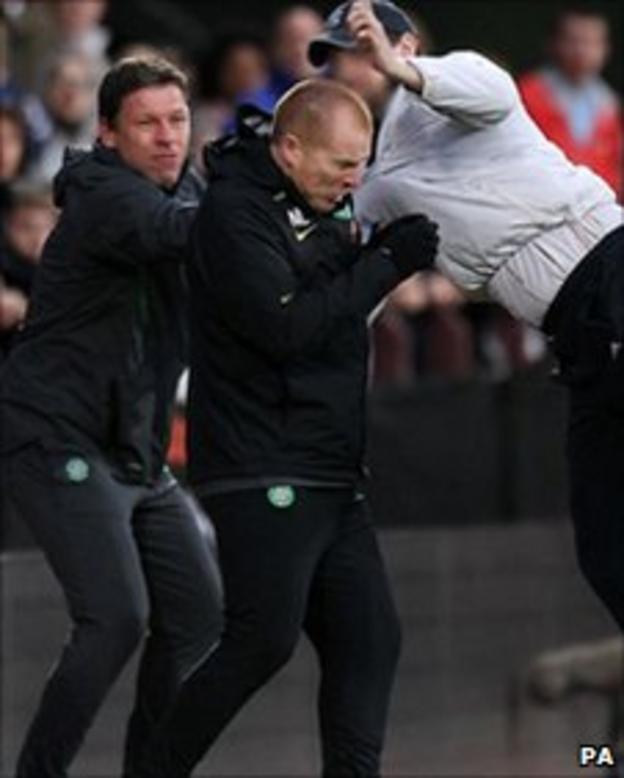 "All right-minded people will surely condemn these actions. But, as a society, we must also address the underlying factors that lead to such behaviour."
A shaken Lennon did not appear for post-match media duties following Wednesday's 3-0 win, a result that takes the Scottish Premier League title race to the final day of the season.
He later said on Twitter: "Don't let what happened to me tonight take the shine off a wonderful team performance..." and added: "I don't walk alone."
However, his assistant, Johan Mjallby, said he would not blame the Northern Irishman if he walked away from Scottish football.
"He is a strong character, he has coped with much," said Mjallby. "The backroom staff are desperate for him to continue, but no-one could blame him if he decided not to.
"I would never blame him whatever he does. I'm shocked and Neil must be even more afraid."
Mjallby feared the latest incident could have been more serious, saying: "What if he had something in his hand?
"But it is too early to say how Neil will react. I am shocked myself, I see it on television all over the world, but I haven't seen it myself.
"We all have to look into this. A manager should be secure inside a football ground."
Meanwhile, Hearts have announced that they have issued a lifelong ban to a fan.
"The club this morning contributed to an investigation launched by the SPL into the matter," they said on their website. "The club will co-operate fully with all ongoing enquiries.
"Hearts worked with Celtic, the police and stewards weeks in advance of the game to ensure that all provisions were made to ensure the safety and security of staff and visitors to the stadium.
"As a result, the game was flagged in the highest possible category and police and stewarding levels were increased accordingly.
"However, the intent and actions of one individual to breach the security measures put in place has tarnished the club and the wider game in this country as a whole.
"Hearts will take the most severe action available to it against any individual or group that brings the club into disrepute.
"There is a limit, however, which was grossly breached last night and we will support the authorities in every way we can in order to help protect the environment of one of Scotland's best sporting arenas and the game as a whole."
Regan, speaking on BBC Radio 5 live, described the Tynecastle incident as "deplorable" and suggested that it had "tarnished the reputation of Scottish football".
Doncaster told BBC Radio Scotland's Good Morning Scotland programme: "We had a delegate at the game who will be giving us a detailed report on the incident.
"We will also be taking reports from the police and talking to both of the clubs.
"Clearly, this is something which needs to be investigated thoroughly and with urgency."
He said the incident was "wholly unacceptable" and "disgraceful".
Rangers remain favourites to retain the Scottish title as they head to Kilmarnock, needing a win to guarantee a 10th championship in Walter Smith's two spells at the helm and his last before standing down as manager.
Lennon, in his first full season in charge at Celtic Park, could yet complete a league and cup double should Rangers lose or draw and his side beat Motherwell, with whom they will also contest the Scottish Cup final.