Anouma 'strongly refutes' bribery
Last updated on .From the section Football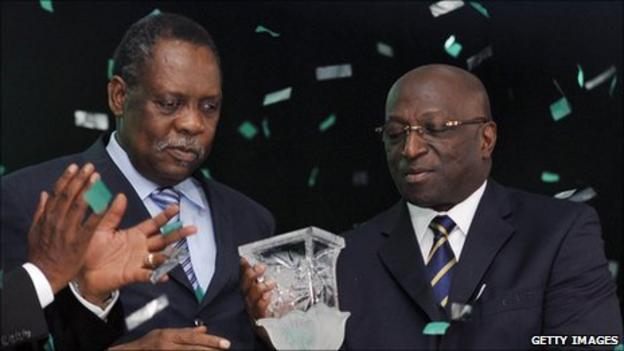 Ivorian Jacques Anouma has joined Caf president Issa Hayatou in "strongly refuting" allegations of selling his World Cup vote to Qatar.
Accusations were levelled against him on Tuesday as the British parliament conducted an investigation into England's failed 2018 World Cup bid.
Along with Hayatou, the Ffia Executive member was accused of taking $1.5m to vote for Qatar's 2022 World Cup bid.
In a statement, Anouma described the allegations as "malicious".
"Considering their extreme gravity, he is welcoming an inquiry from the international football body to establish the truth of the matter," the statement on Caf's website read.
"He also reserves the right to use all legal means against the authors of such declarations which tarnishes his reputation," it added.
On Wednesday, Cameroon's Hayatou also denied the allegations submitted to Britain's parliament by the Sunday Times, which claimed that Nigeria's Amos Adamu had also struck a deal with Qatar.
In its evidence, the newspaper said a whistleblower who had worked for the Qatari had told its reporters that the cash would go to the three members' football federation - but 'there would be no questions asked about how the money was used'.
Qatar, which beat the United States in the final vote for the 2022 finals, swiftly issued a statement denying the 'serious and baseless' allegations that will 'remain unproven because they are false'.
Anouma has been a Fifa Executive Member since 2007 and presided over the Ivorian Football Federation since 2002.
During his period in office, the Elephants reached their first World Cup finals - in 2006 - before qualifying again for last year's tournament in South Africa.