Chick Young's view on the attack on Neil Lennon

By Chick Young
BBC Scotland football pundit
Last updated on .From the section Football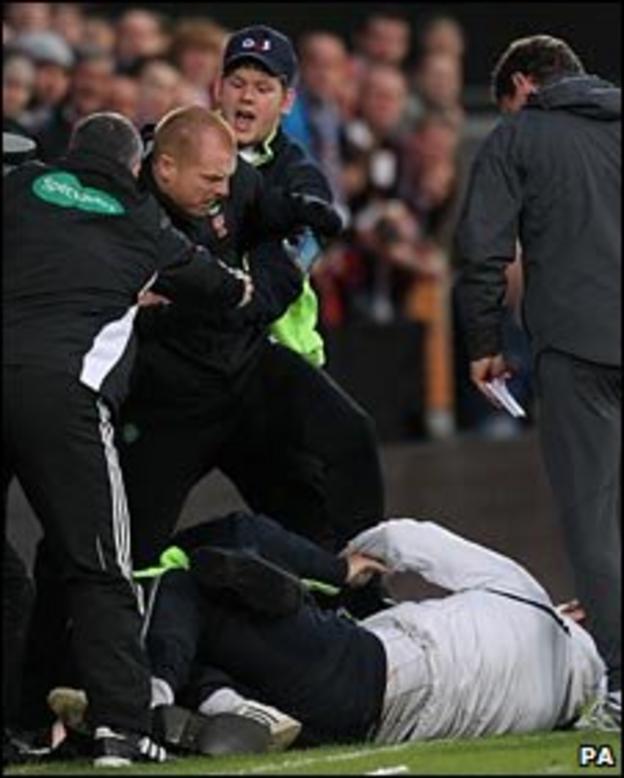 Whatever happened to our beautiful game? It lies disfigured and scarred.
Careless hands have let it slip from its lofty position of dignity and class. Now it lies in the gutter, stinking of headlines that scream of its shame and forget that, once again, this country is capable of providing a last-day showdown for its league championship.
Thieves. That's what they are, the insane who sent ammunition through the post and who would assault a manager working at his coal face. They have stolen the working man's sport and robbed us of its joy.
Neil Lennon is no angel. I think at times this season he has acted dreadfully, naively, about the job he is in and the responsibility he has inherited.
His halo disintegrated some time in the dim and distant, but he does not have the blood of Scottish football on his hands.
It is as if the game is allergic to him, every indiscretion - major or minor - triggering a forest fire of festering anger.
It erupted again in the evil atmosphere of the Gorgie Road. In that ground on Wednesday, it was thick in the air, threatening like a poisonous gas.
To condemn the fruitcake who launched the attack of violence upon Lennon at Tynecastle and bracket him with the would-be bombers is a no brainer. Show me the person who will engage on the other side of that debate and I'll whistle up the home for the mentally dislodged and the local constabulary.
Which is something Heart of Midlothian found hard to do on dark Wednesday.
Your toilet needs fixing, so you phone a plumber and pay him. You need the crowd at a football match kept in public order so you pay - and handsomely - the local force and a stewarding company. If my toilet wasn't fixed, I'd withhold the payment: I'll leave Hearts to work out what they should do next.
They will be hammered for this, but do they deserve it? It wasn't as if there was a shortage of chaps in high-visibility jackets.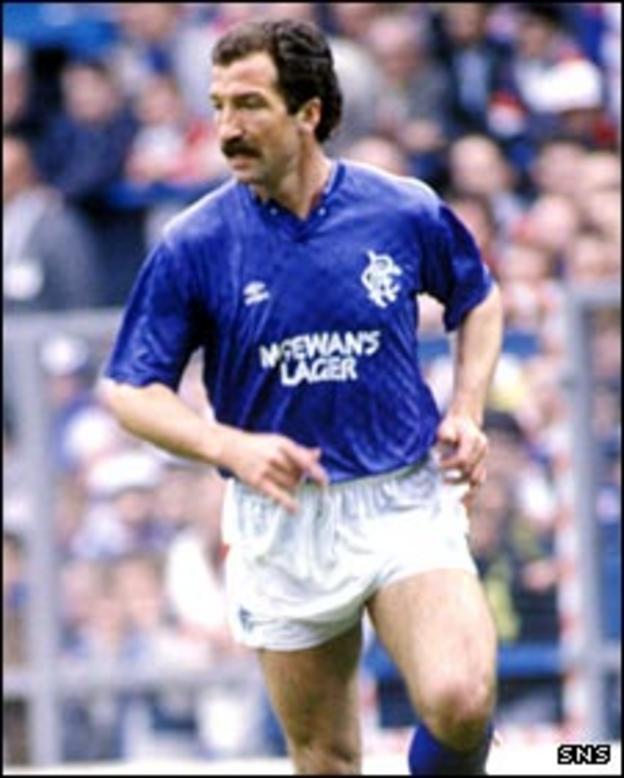 It was bad enough that the madman in question attacked a manager of a football club in front of millions. That he should do it to Lennon, currently under round-the-clock surveillance after death threats is almost beyond belief.
No wonder he vigorously defended himself. He must have thought his time had come.
In the wake of the incident, from which I stood just a few feet away, I watched Lennon stare ashen faced into the middle distance.
Don't tell me that at that moment he was thinking about whether to tweak his midfield or encourage his full backs to overlap more. It was the look that said: "What the hell am I doing here? Is this really worth it?"
It wouldn't be me. Stuff that for a game of soldiers.
I wouldn't have hung around for the next throw-in. I would have chucked in the towel and hot-footed to the nearest remote village pub. Or out to sea, where I would have sunk the anchor until the coast is clear.
But Lennon, it seems, is made of sterner stuff. Of determination and courage. The job means so much to him that he will battle on. Except, somehow, I feel I should be using the verb "work".
Scotland? I love this place, but I will never understand its poisonous divide and events in Edinburgh the other night underline what I have always argued. That its cancer of hatred is not restricted to its west coast. The plague is spread wide.
And yet football is a victim, not the carrier.
Bullies beat their wives, drunks fail to control their emotions, the intolerant rant their abuse at other faiths not because of football but because of their inability to comprehend how a decent society should operate. And, if there was a prohibition order put on our national game, the courts would be no less full.
Lennon has united a support and divided thinking like no manager since Rangers' Graeme Souness has done in this country. And, along the way, he has a media that tracks his every footstep.
Except I'm not sure which is the chicken and which the egg in that arrangement.