NI fans match with Republic off amid sectarian fears
Last updated on .From the section Football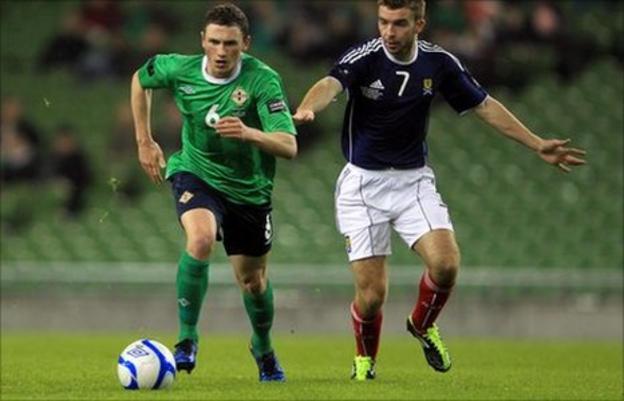 Fears of sectarian trouble has led to the postponement of a charity game in Dublin between Northern Ireland and Republic of Ireland supporters groups.
The game was scheduled to take place in Dublin later this month prior to the Nations Cup match between Northern Ireland and the Republic.
However, BBC understands that the authorities in Dublin recommended that the fans game should not take place.
This follows incidents when NI played Scotland in Dublin in February.
A leaked email from a Police Service of Northern Ireland officer also spoke of the "unfortunate anti-social/sectarian behaviour of a number of our fans at the Scotland game".
The email added that the Football Association of Ireland and the Gardai had been criticised by local residents groups in Dublin following the February match.
Matches involving the Northern Ireland fans team raise money for good causes and this month's game was scheduled to benefit the Dublin-based head injury charity Headway.
A spokesman for the Northern Ireland fans team described the decision as "ridiculous".
"The behaviour of the Northern Ireland fans after the Scotland game has been over-hyped," said Jim Rainey.
"No arrests were made and I am bitterly disappointed that this charity match has not been allowed to go ahead.
"On our last day out, the fans match against Scotland raised £1,000 for our nominated charity."
A PSNI statement said that it could "neither confirm nor deny the authenticity of the email and its alleged contents".
The official Northern Ireland Supporters Club has already called for a fans boycott of the Nations Cup match at the Aviva Stadium because of its unhappiness over security arrangements for the 24 May game.