Carlo Ancelotti and Sir Alex Ferguson warned by FA
Last updated on .From the section Football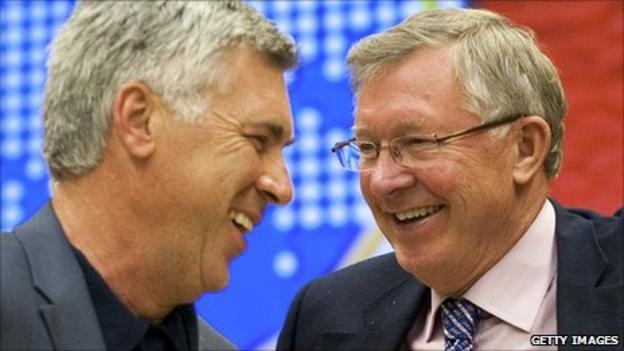 Carlo Ancelotti and Sir Alex Ferguson have been warned by the Football Assocation over comments they made about referee Howard Webb.
Both Ferguson and Ancelotti had spoken positively about Webb, but still broke FA rules.
Those rules prohibit any comment - good or bad - about referees prior to games.
"It was a minor breach, but a breach nevertheless," said an FA statement in relation to the English governing body's ruling on Ferguson.
The chairman of the commission added: "This rule was brought in at the start of the 2009/10 season and this was reiterated formally to all clubs again on 21 October 2010.
"This is a clear breach of the rule and it is the first time such a matter has been placed in front of a commission.
"As a result of this charge, the commission were aware of other occasions where pre-match comments were made by other managers.
"In this case, it was considered to be a minor breach and it should be taken as a warning to all managers in the future that any such breach, even positive comments, are likely to result in a charge by the FA."
Ferguson's side moved within a point of securing a record 19th title with the victory over Chelsea, and then drew with Blackburn on Saturday to clinch the trophy.
But two days before the Chelsea game - which would have seen the Blues top the table had they won - Ferguson spoke about Webb at a news conference.
"We are getting the best referee, there is no doubt about that," he said at the time.
"But [getting a bad decision] is definitely our big fear.
"We have the players to do it all right. We just hope it's our turn for a little bit of luck."
Ferguson only recently returned to the dug-out after a five-game ban and £30,000 fine for his criticism of referee Martin Atkinson following a 2-1 defeat at Chelsea in March.