MK Dons v Posh: Play-offs rekindle newest rivalry
By Chris Osborne
BBC Sport
Last updated on .From the section Football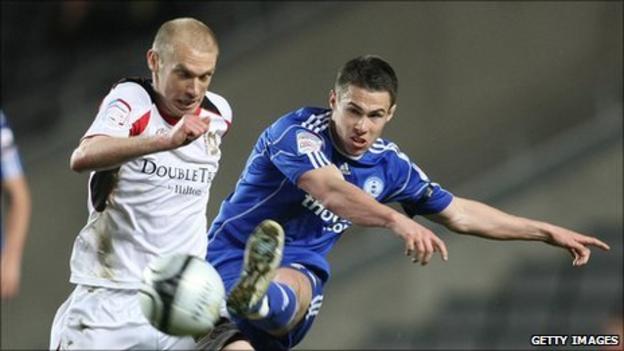 You do not have to flick very far back in the history books to read up on MK Dons against Peterborough United.
When these two sides meet each other in the League One play-offs, it will be the 14th time this burgeoning rivalry will have been played out.
Posh defender Gabby Zakuani explained: "It's a massive game for us and the fans and it will be sweet if we beat them."
"Because it is Peterborough it adds to the spice, more fans will turn up," agreed Dons forward Sam Baldock.
"We seem to have been around them for the last few seasons and we've built up a healthy rivalry."
Since uprooting from Wimbledon in 2003, the Dons have found their recent history intertwined with Peterborough's, who reside 50 miles north of their new home.
In their first season under the MK guise the Buckinghamshire club and Posh battled it out at the bottom of League One, with United succumbing to the drop.
It was a campaign which saw the two sides face each other four times, with the Dons taking wins at London Road in the league and League Cup - Posh drew at Stadium MK in the return fixture but picked up an FA Cup victory.
Two years later and MK had joined Posh on the bottom rung of the Football League, a division they escaped together in 2008, with the Dons pipping Posh to the title by five points.
But the Cambridgeshire outfit turned the tables 12 months later to devastating effect, beating the new foe to second in League One and with it a place in the Championship - MK fell down in the play-offs.
Zakuani, who has played in the last four meetings between the sides, is aware of the history: "The rivalry has definitely built up, it's built up since the League Two days."
And it is obvious he is still stinging from their 1-0 defeat there in March: "That day we dominated them and we should have been out of sight by half-time.
"We want to do it for everyone who was there that day."
And spare a thought for Adam Clayton over the two legs.
The Leeds midfielder spent the early part of the season on loan at Posh, until Darren Ferguson cut the deal short when he replaced Gary Johnson as manager in January.
Now the former Manchester City man is among the Stadium MK ranks.
Clayton said: "The lads are brilliant at Peterborough, there's a great team spirit there just like there is here.
"On Sunday it's either going to be a 5-5 or a 0-0 I think.
"The lads have been asking things, 'what's he like, what's he good at?'
"They've got some good individuals and are a good team, but all I say to the lads is we've got as many good individuals and we pass the ball just as well, if not better.
"I wouldn't say I'd like to get one over on them, but for banter with friends and stuff I would, but nothing malicious.
"Darren came in and he had his own plans and I don't have any issues about that, I'll be going in all smiles, will shake hands and hopefully we can get a win over them."
And a win in the semi-final will be bigger than any other that has come previously in this fixture, with the prize of a play-off for the Championship at stake.