DR Congo league rejects Mazembe's Brazil trip
By Patrice Citera
BBC Sport, Kinshasa
Last updated on .From the section Football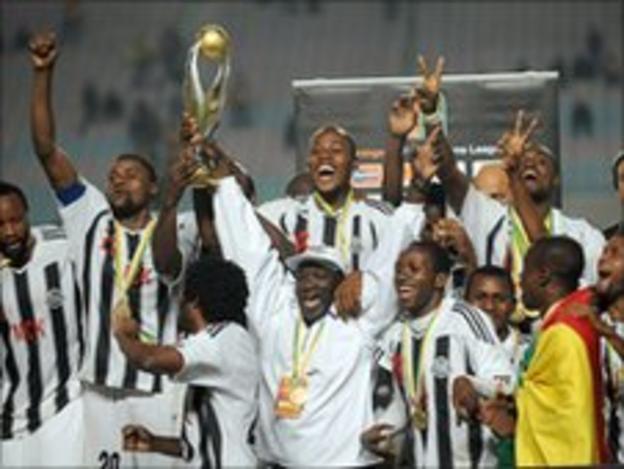 African champions TP Mazembe may have to cut short a three-week training camp in Brazil.
The Congolese side travelled to South America on 11 May to prepare for the last eight of the Champions League.
But DR Congo's National League has rejected Mazembe's request to postpone some of its league matches.
Mazembe have yet to react, making it unclear whether they will honour Sunday's fixture against DC Motema Pembe.
The league said the request had been turned down partly because it was submitted on the same day that Mazembe left DR Congo.
"Given that we received your letter asking for the postponement of league matches on the same day you flew to Brazil, we consider this a deliberate attempt to make us accept it as a 'fait accompli'," said a statement from the League's Organising Committee.
"We regret to inform you that we do not accept your request for us to postpone your 15 May league game with DC Motema [and] we demand you to strictly respect our decision," the statement added.
Should Mazembe fail to play the match, the points would go to Motema Pembe.
In its statement, the Organising Committee said it will meet to discuss further measures should Mazembe miss additional league games.
No official from Mazembe was available for comment.
Motema president Antoine Musanganya refused to comment on the decision of the Organising Committee.
"All I can say is that if Mazembe wish to abide by the order of the league, they should do whatever they can to play us as planned on Sunday," he told BBC Sport.
Newspapers in the Congolese capital Kinshasa had called on the Organising Committee to reject Mazembe's demand because the trip will delay the scheduled end of the league season.
The Lubumbashi-based club did the same last year when it travelled to Rwanda to contest the Cecafa Club Cup.