Aston Villa's Gary McAllister calm over Gerard Houllier
Last updated on .From the section Football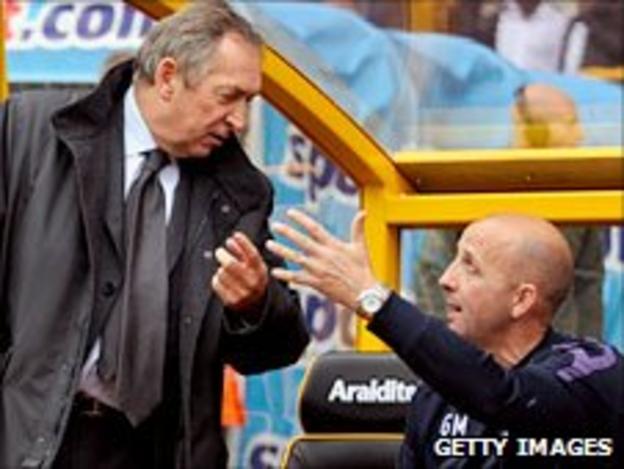 Aston Villa assistant manager Gary McAllister has dismissed suggestions that Gerard Houllier's illness will lead to a summer of uncertainty.
Boss Houllier, 63, was admitted to hospital with heart trouble on 20 April and was discharged nine days later.
"Apart from not being fit enough to take training, he's certainly fit enough to be getting on with the business side," said McAllister.
"Gerard is eager to go into the summer prepared for pre-season."
Houllier, now resting at home, may attend Villa's final game of 2010/11, at home to his former club Liverpool on 22 May, as a spectator - but McAllister confirmed that the Frenchman would not be back in the dug-out this season.
McAllister added that he had "seen quite a bit of [Houllier] this week" and that the manager was "very good".
"I've been over and we ventured out and had a bit of lunch. He's up and about, certainly more free around the house, so he's good," said the Scot.
"There have been loads of conversations with [chief executive] Paul Faulkner, myself, getting on with things, preparing for next year.
"As you can imagine there's quite a lot of work to be done. That's a fact.
"When you come to this end of the season, as much as people think it's a winding down for the club, there is a lot of preparation and stuff that needs to be set in place for next season, so there are certainly a few things that need to be ironed out."
McAllister has confirmed Houllier is under "no pressure in terms of time" as to when he will be back in his office.
"I think for everybody there will be a definite decision, but every indication from Gerard is that we are getting on with what we need to get on with at this moment in time," he added.