An Italian is settling in to playing in Zambia
By Kennedy Gondwe
BBC World Service, Lusaka, Zambia
Last updated on .From the section Football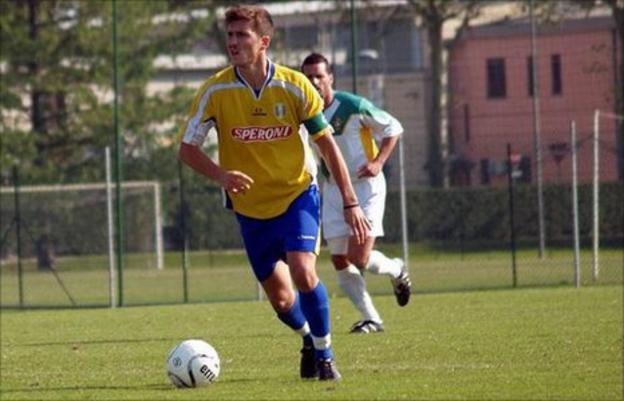 Italian midfielder Fabio Pellacini is taking something of an unusual career path, as he settles into life playing for Zambian side Green Buffaloes.
The 24-year-old architect arrived in Zambia in February to visit his cousin and after failing to find a job in his chosen profession turned his attention to football.
Buffaloes is the latest step on a football journey that has seen Pellacini play for the youth side at Serie A outfit Parma and Italian fourth-tier side Meletolese.
"Joining Green Buffaloes is a great opportunity for me because I am discovering myself in a different country," he says.
"The architectural career is [still] important, but I want to grow my football career in a different country and go back to Italy and maybe play for a big club."
While Pellacini dreams of playing for Italy he knows he has a long way to go.
"My dream is to play for my country's national team, but it is very hard and I have a lot of work to do," he admitted.
"This is the best way to move to another league, maybe South Africa."
He has more immediate aims as he tries to help the army-sponsored Buffaloes to win their first title since 1981 - they are currently seventh in the league.
"My immediate focus is to win the title with Buffaloes," he insisted.
Despite the Zambian league not being very high profile, Pellacini feels there are things he can learn with Buffaloes.
"I think that I can prove myself in the Zambian league and also improve my running, because in Italy players don't run as much as they do in Zambia," he points out.
"The only big difference in terms of football is the state of the pitches. Pitches here are hard, heavy and bumpy.
"For me, such pitches are actually good because I can improve my technique and ball control."
Pellacini has started learning the local language to help him settle in with his team-mates.
The Buffaloes coach, former Zambia midfielder Aggrey Chiyangi, is very happy with his Italian import.
"He's a very good player, what impressed me the most about him was his movement with the ball. He is very strong," he explained.
"When you also look at his passes, they are so precise."
It remains to be seen which path his career will take.