What now for Neil Lennon and Celtic?
By Keir Murray
BBC Scotland
Last updated on .From the section Football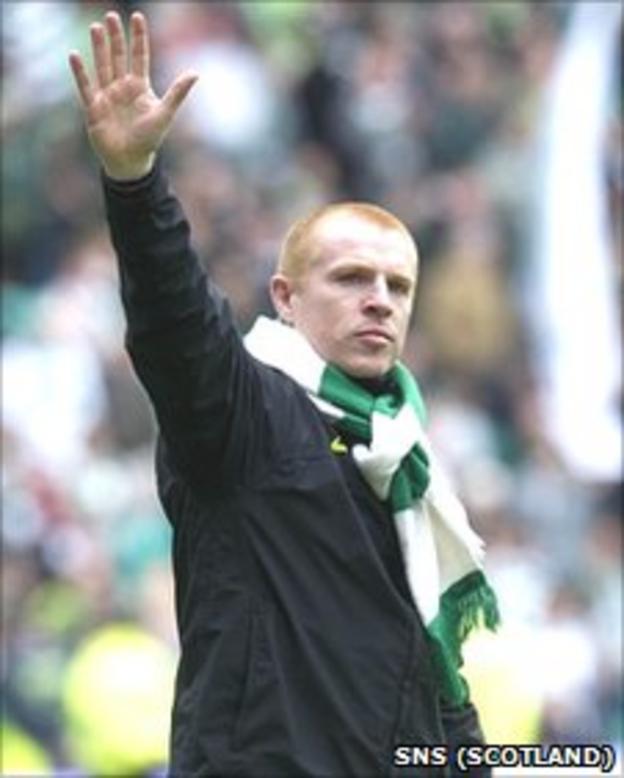 There will be some soul-searching at Celtic Park this summer.
It was a thrilling run-in but one that ended painfully for Celtic, despite their last-day 4-0 win over Motherwell.
Lennon has led his team to two domestic cup finals this season.
They lost the Co-operative Insurance Cup to Rangers in extra-time but they may yet win some silverware by beating the Steelmen in the Scottish Cup final on 21 May.
Having addressed the fans, who clearly want him to stay, after the team walked round the pitch to engage in mutual applause, Lennon told BBC Scotland that he aims to stay put.
Defeat has not dimmed his ambition or appetite. And, apparently, neither has the shocking series of death threats, touchline arguments, alleged attacks and battles with Scotland's football authorities.
If the 39-year-old from Lurgan in Northern Ireland has his way, he will be Celtic boss next season.
"I love the job, I love the players and I have a good family behind me," said Lennon.
"It was disconcerting to have to deal with some of the stuff but hopefully there is a tipping point and hopefully we are past that.
"I don't want to be a nearly man. I want to bring some silverware to the club.
"We have started something that we want to see through. I don't take it lightly. I'll speak to the board and if they want me to carry on I will do that."
The question is, will the Celtic board allow him to continue?
Last season, Rangers won the championship with three games to spare. Then, as in this season, the team from the south side of Glasgow had a sense of unity and, in Walter Smith, a manager who knew how to get the most out of his players.
In March last year, following the departure of Tony Mowbray, Lennon steered a dishevelled group of players through the remaining months of the season.
For a flawless set of SPL results, spoiled only by a Scottish Cup semi-final defeat by First Division Ross County, he was rewarded with a rolling 12-month contract at the club for which he had starred as a player.
Since then, the board has backed his accumulation of more than a whole team to re-shape a squad to compete for trophies again and attract the fans back to Celtic Park.
In players' player of the year Emilio Izaguirre and Israeli midfielder Beram Kayal, Lennon has generally invested his transfer funds wisely.
Lennon's greatest extravagance was the £2.4m purchase of Scunthorpe striker Gary Hooper, who has repaid his boss with 21 goals.
Also, to his credit, the manager has reinvigorated Celtic in the same way that Smith did on his return to Ibrox.
The fans are again upbeat and players like Mark Wilson and Scott Brown have re-emerged to offer the manager a resoluteness in defence and midfield.
In terms of league form, Celtic won 29 of their 38 matches, drawing five and losing four. Their defence has shown that it is the best in the SPL, conceding only 22 goals.
It is possible to pore over the nine games where Celtic did not take full points and highlight mistakes or moments of bad luck.
But the 3-2 defeat by Inverness Caledonian Thistle on 4 May will be the one that sticks in the mind as the game in which Celtic blew their title hopes.
Taking Celtic to two cup finals and losing the league by a point is far from a disgrace. On results alone, Lennon deserves to be in charge next season.
But this is Neil Lennon and this is Scotland.
For Old Firm players and managers, Glasgow is often described as a goldfish bowl. With Lennon, it resembles a piranha tank.
Last week two men appeared in court in connection with parcel bombs that were sent to the Celtic manager, and another man was in court in connection with an alleged attack on him at Hearts' Tynecastle Stadium.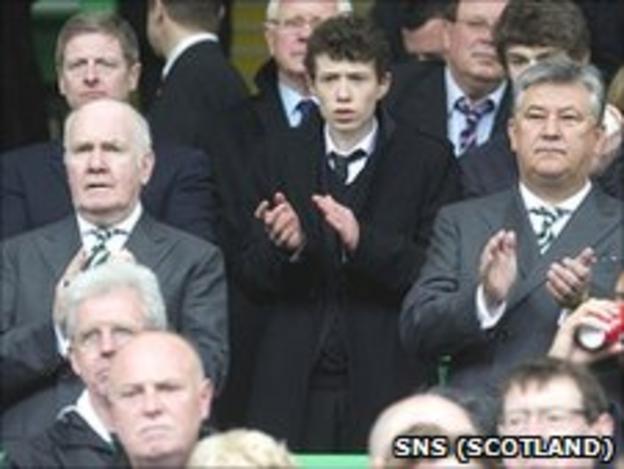 There is something about Lennon that upsets people in Scotland. The most obvious thing, given the nature of the abuse that comes his way, is that it is his religion.
That surely plays a part, however unpalatable it is for Scots to admit.
There has been another Northern Irish Catholic in charge of Celtic - Martin O'Neill - who came from a similar background to Lennon's but he was not in danger of drowning in the same depths of venom in his time in Glasgow.
If his image away from football is one of a soft-spoken, articulate man, Lennon's persona as a player and manager is mostly framed by images of him haranguing officials, barking instructions, snarling and contesting decisions.
Perhaps it is this combination of religion and outspokenness that upsets.
The Scottish Football Association has been kept busy dealing with his post-match comments and touchline antics at Celtic Park, Tynecastle, Tannadice and Ibrox, for example.
Lennon apologised to the Celtic board following his infamous row with Rangers assistant manager Ally McCoist.
But after that, just like when chairman John Reid backed his comments about referee Dougie McDonald for his part in a post-match cover-up about a penalty decision at Tannadice, the board supported their manager.
The club's chief executive Peter Lawwell said of the Lennon-McCoist bust-up: "He's got to put up with live ammunition going through the post, bomb threats, 24-hour surveillance. It's a lot to take on."
The board have shown no sign that they are ready to sack Lennon. Although they have yet to table a long-term contract, they seem determined to back their man.
If they decided that Lennon's off-field hassles were distracting him from the job of improving Celtic, who would they seek to replace him?
Norwich manager Paul Lambert, Lennon's friend and former team-mate, told BBC Radio Scotland that some managers would not be willing to move to Celtic, having witnessed the season Lennon has endured.
"In years gone by people would have walked over broken glass to get it," he said of the Celtic job. "Now I'm not so sure because of the lifestyle that goes with it."
Lennon's agent Martin Reilly cannot see him "diving out the door". Instead, he said, Lennon "will sit down in the summer with Celtic and the security and go through what is going on".
In all likelihood, Lennon will be in the dugout for season 2011/12.
"This isn't the end, this is the beginning," a defiant Lennon told supporters after the win over Motherwell.
"The reason I took this job was to win silverware. We're disappointed today but we've got one more piece of silver to win."
Next Saturday at Hampden Lennon will have the chance to lead Celtic to the Scottish Cup.
We will soon know if a new dawn has broken.