Stoke boss Tony Pulis proud despite FA Cup defeat
Last updated on .From the section Football
Stoke boss Tony Pulis says he is proud of his team's achievements this season despite their 1-0 defeat to Manchester City in Saturday's FA Cup final.
Pulis admitted his side were second best at Wembley but said this did not detract from their positive campaign.
"I thought the best team won," said Pulis after the game, which was decided by Yaya Toure's 74th-minute strike.
"We've had a great season. We retained our Premier League status, got to an FA Cup final and qualified for Europe."
Manchester City's victory at Wembley ends a run of 35 years without silverware for the club.
But it is 39 years since Stoke last lifted a trophy - the 1972 League Cup - and they never looked likely of righting this as Roberto Mancini's side largely bossed the final.
It was a disappointing showing from Stoke, who failed to reach the recent heights that had seen them beat Bolton 5-0 in the semi-final on the same ground and record a 3-1 win over Arsenal in the Premier League.
Pulis admitted his players were dejected after their display.
"We've reached a level of performances over the last six or seven weeks, beaten Newcastle and Wolves and Arsenal and come to Wembley and beaten Bolton very convincingly," he said.
"The greatest disappointment is that today we have not reached that level.
"They are disappointed with themselves. Manchester City were the better team. They deserved to win the game. You need to bring your 'A' game to the table.
Pulis put Stoke's disappointing showing down to having lost key players such as Ricardo Fuller and Danny Higginbotham and the further injuries suffered by Matthew Etherington and Robert Huth in the weeks before the final
"Maybe we ran out of a few players. Ran out of a bit of depth that Manchester City have got. They're human beings, but they've been fantastic and they are desperately disappointed," he said.
"We've had a few injuries. We were missing Fuller and Higginbotham coming into the final and with Matty and Robert not training and not knowing if they were going to play put some doubt in one or two players' minds. But I'm not here to make excuses."
However, Pulis saluted the Stoke supporters who stayed to watch the cup being presented and whose enthusiasm was clear to see throughout the game.
"Our supporters were fantastic," he added. "To be there at the end of the game to watch another side pick up the trophy is pretty unique.
"The club has been a community club. It's the closest I've ever known a group of supporters to get with a football club. It's been pretty phenomenal."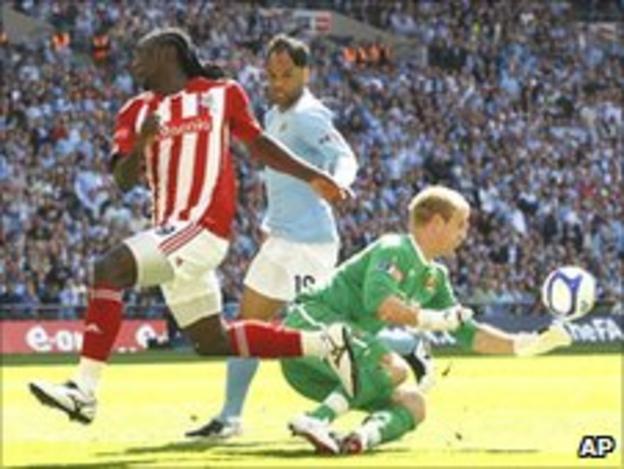 Potters goalkeeper Thomas Sorensen admitted Manchester City deserved their victory.
"They played the best stuff on the day," the Dane admitted to ITV1.
"It's disappointing that we didn't play better. We've done so in the past - especially lately, we've done really well - that's the most disappointing thing."
Sorensen felt Manchester City's goal came just at the wrong time for his side.
"I thought we were coming back," he added. "The first half was a big disappointment - we never really got playing.
"I thought they were running out of ideas so it came at a bad time for us. We were just getting into the game. We'd just had a good chance with Kenwyne. We're just so disappointed."