Billy Reid eyes return to SPL with Hamilton Accies
Last updated on .From the section Football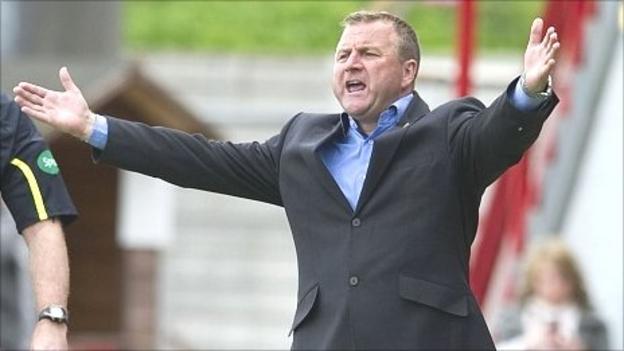 Billy Reid's ideal future is to return to Scotland's top flight with Hamilton.
Accies were relegated from the Scottish Premier League in midweek after a long-running basement tussle with St Mirren.
"I've got a three-year rolling contract here and that tells you everything," said Reid after his team's final game 2-1 defeat by Inverness at home.
"I want to manage at the highest level possible - with Hamilton, hopefully, in the Premier League but the First Division is difficult to get out of."
And he added: "I am really excited about next season. We won the First Division three seasons ago. We'll go there and give it our best shot and play in the right manner.
"The only way this club can survive is bringing young players through. We are not the biggest club in Scotland, by any means, but it has been a great journey.
"But there is a great group of young kids ready to come through here next year.
"The one thing I guarantee is that we will play in the right manner. We will bring players through our system; that won't change.
"James Chambers is 23 years old. We brought him in from Shamrock Rovers. He is another one who will feature.
"There is Grant Gillespie, three young lads on today - David Hopkirk, Connor McGlinchey, Kieran Miller."
Reid called defender Lee Kilday's performance against Inverness "outstanding", an example of "the good things still happening at the club".
Hamilton have released Damian Casalinuovo, Flavio and Marco Paixao, David Buchanan, Mark Carrington, David Elebert, Tom Elliott, Andy Graham, Gary McDonald, Sean Murdoch and Gavin Skelton as they begin a major rebuild for next season.
"The worst part for any manager, whether you stay up or not, is players being released," he told BBC Scotland.
"I'm no different from anybody else. There are some guys here who did very well that we can't give another opportunity to.
"But for the first season since I have been here - six years - we have not managed to win games.
"Some of our play has been excellent at times but we have just done ourselves in at times.
Asked if Czech goalkeeper Tomas Cerny could join the exodus of players, Reid said: "We want to keep our better players.
"We always say to guys, 'if you improve, you move on to a bigger club'.
"I think Tomas Cerny is capable of playing at a bigger club than Hamilton but that doesn't mean I'm in a rush to get him out the door.
"We paid a fee for him so if someone comes in and pays a fee that is acceptable to the chairman then we are probably not going to stand in Tomas's way."