Amateur veterans face ex-Czech internationals
By Aled Williams
BBC Sport Wales
Last updated on .From the section Football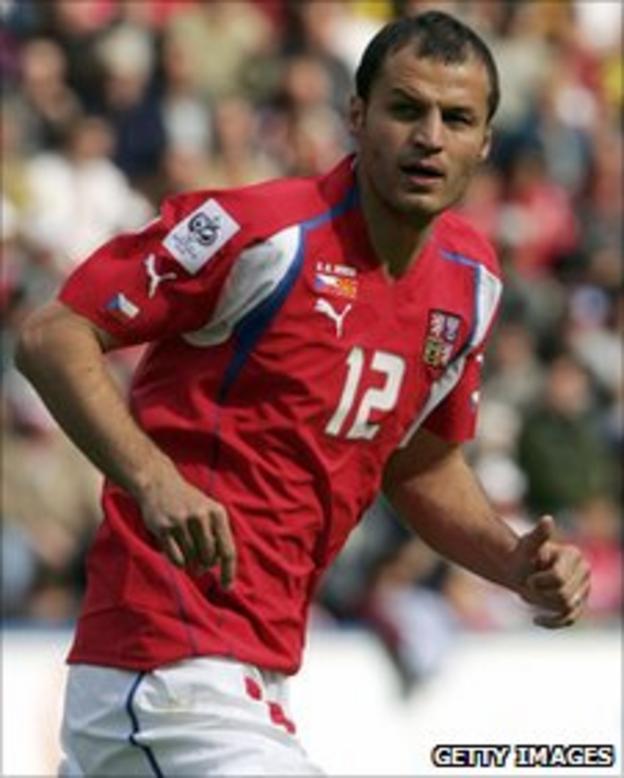 Most footballers are usually contemplating hanging up their boots and planning their post-retirement futures by the time they've reached their mid-30s.
However a group of veteran players from Cardiff are preparing for a match against a side including a number of former Czech international players.
A squad which is expected to include ex-internationals Radek Drulak, Jan Fiala, Vratislav Lokvenc and Jiri Ondra is the test facing Cardiff Academicals veterans on Thursday evening.
The Accies' oldest player is 56 years old, the youngest a youthful 35 and despite the obvious gulf in experience, the Welsh side are undaunted.
"We're in it to win it, we always are" said 50-year old Gareth Cook, the Accies player-manager. "We've been practising and we'll do our best.
"Realistically it's a mismatch if you look at it. But we are competitive and we'll do our best to get a reasonable score.
"If we could win, it would be great. I think you've got to be pragmatic about this and think they're not going to let us win because they won't want to lose."
It all seems a very long time since the Academicals was formed in 1979 by five Cardiff University law students.
One of the founders was Simon Mumford, who will be familiar to viewers of BBC Wales' X-Ray following a stint sharing legal advice on the programme.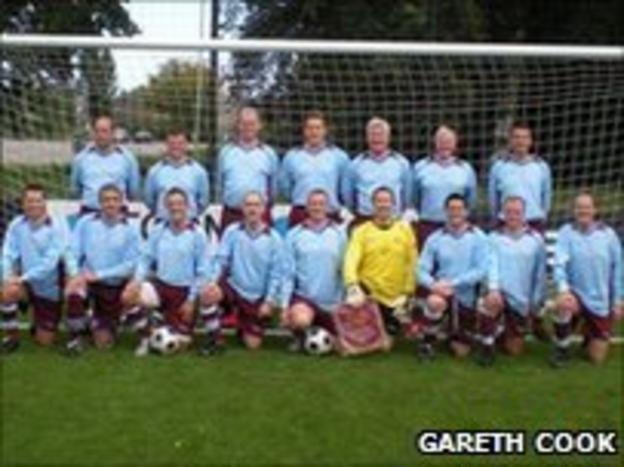 He is expected to make a cameo appearance against the Czech side at Cardiff University fields in Llanrumney on Thursday.
Gareth Cook joined the Academicals in 1994 and having played for the first team would later become involved with the reformed veteran's team were he undertakes a number of roles, including player-manager and secretary.
The team play in the Bristol Casuals League and have also competed in the national Umbro Cup competition.
They have played in Belgium and the Netherlands, where they faced a team of Ajax veterans at the Amsterdam side's De Toekomst training complex in 2009.
A year later they took part in a 14-team competition in Antibes in France, which was won by the Czech old boys and whom Gareth invited over to Wales for a match.
"They said they had played a Newport County vets some 18 months previously," said Gareth.
"I laughingly said: 'Why don't you come to Cardiff?' I followed it up from there and here we are, they're coming over to play us."
In June the Accies will travel to Prague to face the veteran's teams of the city's two clubs - Sparta and Slavia.
Gareth believes veterans' football is a great way of keeping fit as well as the social aspect of being involved in a team.
"Nationally I think veterans' football is a growing thing," said Gareth. "They're always undertaken in a friendly atmosphere.
"You're not getting people kicking you left right and centre on the parks on a Saturday afternoon.
"There's quite a bit of respect between the veterans when they are people of our age.
"You're just looking to go out and have a good competitive game but without any hassle.
"You're not going to get somebody berating you or trying to kick lumps out of because we've all got to go to work on the Monday.
"I'm sure my dad stopped playing when he was 38 but he would have kept playing if there had been an avenue for him to play I think.
"People seem to have much more time for leisure and there are more leisure opportunities these days than there were 30 years ago.
"More people are focused on health these days and obviously football is one way of maintaining a healthy lifestyle."
A player who would be eligible to play for the veterans is a certain 37-year old Manchester United star and former Wales captain.
"The invitation is always there for Mr Giggs," joked Gareth. "That would be nice, wouldn't it? But I can't see him playing for us"
UPDATE: As expected the Czech old boys won the match with a 7-1 victory, although they were only ahead 2-0 at the interval. Gareth said the visitors had enjoyed their short stay in south Wales.
"They had a really nice time," said Gareth. "They liked Cardiff and thought the people were relaxed and very friendly to them when they were out and about