Football Association wants talks on FA Cup final clash
Last updated on .From the section Football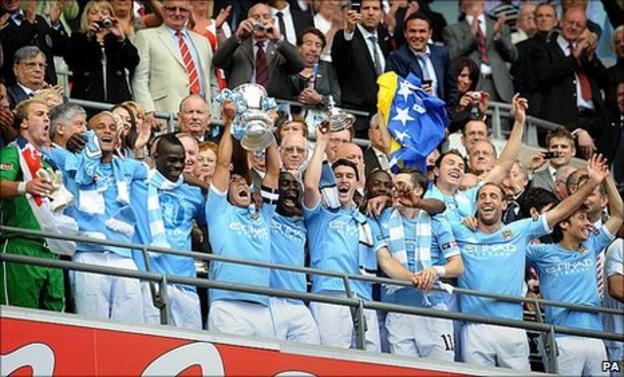 Football Association chairman David Bernstein will hold talks with the Premier League about games being staged on the same day as the FA Cup final.
Saturday's Wembley showpiece kicked off less than half an hour after a round of top-flight matches finished.
"I think the Premier League was diminished somewhat by the Cup final, not the other way round," Bernstein told Sportsweek on BBC Radio 5 live.
"I will have a constructive conversation with them about it."
The FA has been holding a review of the FA Cup, which has been struggling to maintain its historic status as one of the most highly regarded competitions in the world.
Talking to Sportsweek on Sunday, Bernstein confirmed that next year's Cup final is likely to kick off at 1715 BST.
But he ruled out "major reform" to the tournament, dismissing introducing seeding as a "mickey mouse" idea and expressing his opposition to the abolition of replays.
"We've done a review of the FA Cup because there have been certain pressures on it," said Bernstein. "We are not going to make a huge number of changes because we think it is much more robust than it is given credit for.
"We've done a lot of surveying about what fans would like and what TV would like and for once they coincide in that 5.15pm is a very good time in terms of people being at home. It breaks up the day in a different sort of way.
"I feel very strongly that a competition of this quality should have replays."
Bernstein said he was keen to see a more flexible ticket pricing structure for the Cup final that would allow clubs to charge as little as £10 for a ticket.
Bernstein was pressed on why Saturday's final between Manchester City and Stoke City was allowed to be staged on the same day as Premier League matches for the first time.
The schedule meant Manchester United sealed a record 19th league title hours before Man City ended their 35-year wait for a major trophy.
He said the fact that this year's Champions League final is being held at Wembley on Saturday, 28 May had been a factor in the scheduling but pledged to work hard to ensure that clashes were the exception and not the norm.
"We will do everything we can to get one day to ourselves and try to get back to the last day of the season but times have changed and there is a lot of pressure on the calendar," he said.
"But we are fairly comfortable with the competition and yesterday was a great boost."