Neil Lennon aims to be Celtic manager next season
Last updated on .From the section Football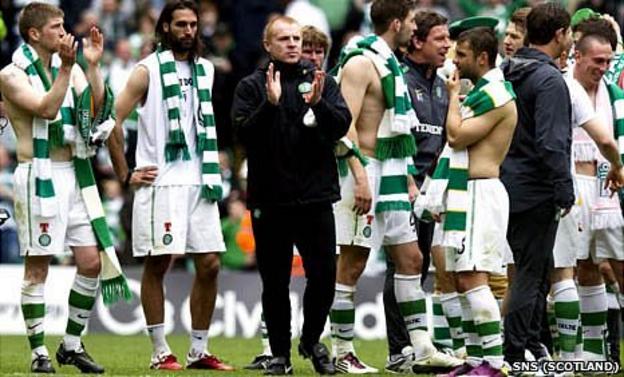 Celtic manager Neil Lennon says he wants to continue in his role next season, assuming the board at Parkhead want him to stay on.
Lennon saw his side miss out on the Scottish Premier League as Rangers' 5-1 win at Kilmarnock rendered Celtic's 4-0 victory over Motherwell redundant.
"I love this club, we've started something we want to see through.
"I'll speak to the board, if they want me to carry on then I will certainly do that," Lennon said.
After finishing his first full season in management one point behind Rangers, Lennon outlined how much value he places on being the boss at Celtic Park.
"It's a very privileged job. I want to work. There are no guarantees in any managerial job. Any managerial job is very precious position to be in, I don't take it lightly.
"I love the job."
The Northern Irishman conceded that the recent off-field events surrounding him, and Wednesday's attack by a fan during the match against Hearts at Tynecastle, has been difficult to cope with.
"It's disconcerting having to deal with some of the stuff that's gone on, but hopefully there is a tipping point and we have gone past that," he explained.
"They've never really took my focus away from the job I was trying to do. This job is too big for anything other than footballing commitments.
"I've got good family behind me. I didn't let it affect me too much."
Although disappointed to come up short in the SPL title race, Lennon paid tribute to his players.
"A lot of them can take a great amount of pride from their contribution to the season," he said. "There's been a big progression, but at a club like this we desperately wanted to win the championship.
"To accumulate 92 points, and lose by a point is sore to take. We've been tremendously consistent over the season.
"You could maybe look back at the three home draws in November / December that have came back to hurt us. That was a wee rocky spell that we went through but we came out of that very, very well at the turn of the year."
Lennon rejected the suggestion that winning the Scottish Cup final against Motherwell next weekend would mean this season would be judged as a success.
"No, winning the league would have been a success," was his reply on BBC Radio Scotland. "I would see this season as being almost successful, but I don't want to be known as a nearly man. I want to bring some silverware to the club.
"We're here to win championships at this club. We want to put a product on the pitch that will bring supporters to come and watch and take a lot of pride in. We've achieved that in essence, we've just fallen short in terms of silverware that we wanted."
The Celtic boss went on to give a glowing testament to the club's support.
"Our supporters were magnificent," he enthused. "The unity between the players and the supporters has been a credit to the club and a huge inspiration to myself, my backroom team and to the players.
"I can guarantee you will see a very good Celtic team again next season, one that desperately wants to achieve things not just domestically but do better in Europe as well.
"We are hoping to make a few additions, and we already have done on pre-contracts. There will be a few players leaving the club and we are hoping to bring in better [players]."
After reserving fulsome praise for those connected to the club, Lennon took aim at those within Scottish football whom he believes are bringing the game down.
"I've been here 10 years and I think there is a lot of people in the game who take a lot out the game and don't put a lot back into it," he said.
"There is a lot of people suck the blood out the game, criticise it, put it down and don't make it any better by contributing anything to it themselves."
Having secured a third SPL championship in a row, Walter Smith now retires as Rangers manager, and Lennon has nothing but admiration for his counterpart across the city.
"I'd like to congratulate him and his team," he said. "It's a tremendous achievement. He's been one of the best managers in the history of the Scottish game.
"He's a really decent guy, a decent footballing man and if I was going to lose to anyone in the SPL it would be to Walter."