Carlos Tevez considers staying at Manchester City
Last updated on .From the section Football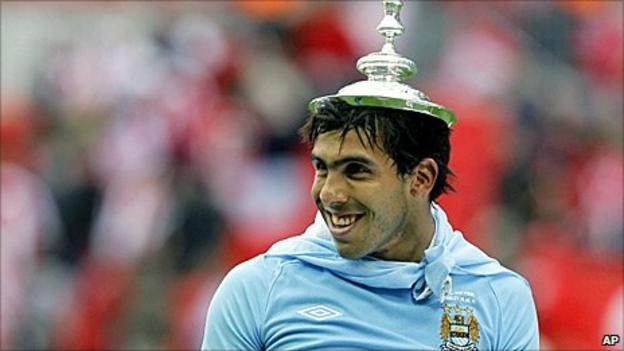 Carlos Tevez says he could stay at Manchester City if he can find a solution to his family issues.
The Argentine striker has been linked with a move to Italy but after helping the club lift the FA Cup on Saturday, Tevez said he was not set on leaving.
"My family are my priority, I don't have a problem with anyone at the club. Everyone treats me right.
"But there is an issue we need to sort out and that's the long distance between me and my family," said Tevez.
"I have a great relationship with [manager] Roberto Mancini. We are both winners.
"There are still two games to play and we are only focused on that. Then I will talk with my family and everyone else. I have not made a decision on anything yet.
"The club wants to me stay and I also want to stay if everything is OK for my family.
"I don't know if I'm going to leave or not or go to Spain or Italy. People say I am going but I am still here."
Tevez's two children live in Buenos Aires in Argentina.
Meanwhile, City director of football Brian Marwood said he wants Tevez to realise the ambition of the club.
Mancini's side ended their 35-year wait for a trophy by beating Stoke at Wembley and booked a place in the Champions League qualifiers last week.
Marwood told BBC Radio 5 live's Sportsweek programme: "We are working hard to keep Carlos as we are with everybody.
"I just hopes Carlos reflects on the season and reflects on the fact we are going to be playing Champions League football and thinks this is something I want to be part of.
"That is up to Carlos to think through in the summer. You would like to think Manchester City is going to be an interesting place over the next few years.
"Carlos asked for a transfer in January and the club refused that. He is a massive player for us. He is our captain, he is our top goalscorer. Everyone can see that when he steps over that white line, he gives everything.
"He came into the final yesterday having just recovered from a very nasty hamstring injury but once again showed great leadership qualities."
A goal from Yaya Toure in the 74th minute ended Stoke's resistance in a 1-0 City win at Wembley and sparked a night of celebrations in the blue corner of Manchester.
Former Manchester United striker Tevez, 27, savoured the moment following the victory over Tony Pulis' side and believes City can now challenge the best in the country.
Tevez said: "It was a great moment because the fans wanted it so much and they deserved it. We won it and we are very, very happy.
"It's a big club with big players and it's normal that when you don't play so well people criticise. But we are not playing to shut people up, are playing to achieve our objectives.
"We are trying to get the team to keep winning things and the Premier League is included in that plan."