Cardiff face Craig Bellamy fitness dilemma - Verheijen
Last updated on .From the section Football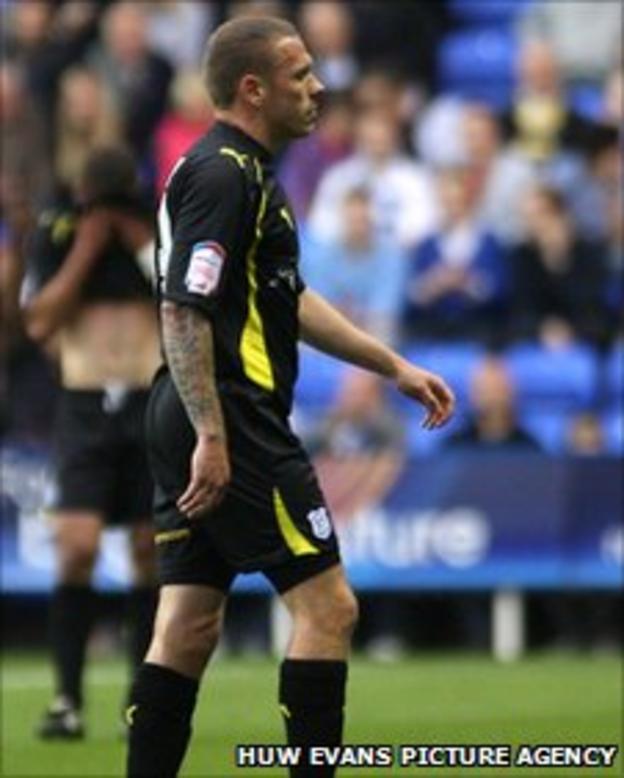 Cardiff City have an "interesting dilemma" whether to play Craig Bellamy in Tuesday's Championship play-off clash against Reading, his personal trainer has said.
"Decision time tomorrow [Tuesday]. Another interesting dilemma," Raymond Verheijen said in the last in a series of messages on Twitter.
The Bluebirds plan to leave a decision on Bellamy until the last moment.
Bellamy limped off during Friday's dgoalless first leg.
The 31-year-old striker lasted only 17 minutes as the first leg finished in a 0-0 draw and Verheijen, who is also Wales' assistant manager, suggested a congested fixture list had played its part.
Verheijen's earlier tweets included: "All season we have stuck to the 'one-game-per-week' principle as this approach has kept CB [Bellamy] injury-free for almost two seasons already.
"In last month CB played three games in seven days followed by two games in three days and two games in five days. We're collectively responsible for this gamble.
"Thankfully, CB survived these seven games in only 28 days without any injury. So, now it's decision time tomorrow. Another interesting dilemma."
Cardiff City boss Dave Jones has said although he is keen for Bellamy to play he will not be rushed into an early decision.
"We will leave it as late as possible. He has still got a chance and we'll have a look at him," said Jones.
"He came off as quickly as he could get off [at Reading], and we'll just wait and see. We'll leave it as long as we possibly can."
Jones says he is sure that Bellamy will use his experience to make the right decision on his fitness.
"That will be down to the individual. You have got to be sensible and if you think you can give a performance then you go with it.
"But if you don't then you have to be honest enough to say: 'No I don't think it's right' and you give someone else an opportunity. That's why you have a squad of players.
"If anybody knows his body it should be him [Bellamy]. He'll know himself - he's professional enough and I think he is wise enough now.
"He has had a lot of injuries in his career where maybe he has gone and not done himself any favours by playing. He'll know and it will be an honest answer from him, and that's all you can ever ask."
Jones, who also has injury concerns over goalkeeper Tom Heaton (groin) and Mark Hudson (knee), admitted that for the Bluebirds to be without Bellamy against Reading would be something of a setback, although in the first leg Cardiff were able to replace Bellamy with Michael Chopra.
"Craig's a catalyst to what the football club is trying to do. But we've played before without him and if that's the case we'll get on with it because it doesn't matter what player you have injured you still have to replace him," added Jones.
"If he is not right then of course that will be a massive blow, just as it would be if we lost any of our players.
"I think the most important thing on Friday was to stay within the game. It was about going into the second leg on either winning terms or even. We didn't want to be losing. That was why the game was so hard and a bit of a stalemate.
"It's no good going into the second leg if you are three or four down.
"It was about staying in it. If we came away with a victory it would have been absolutely fantastic. We got the next best thing which was a draw."
Cardiff could be up against Wales international Hal Robson-Kanu and Mali winger Jimmy Kebe, who will both be in the Reading squad for the second leg.
Robson-Kanu limped out of the first leg with a hamstring while Kebe missed the game with a thigh injury. Reading boss Brian McDermott will make late fitness decisions on both.