Caf backs Blatter over Hammam in Fifa election
Last updated on .From the section Football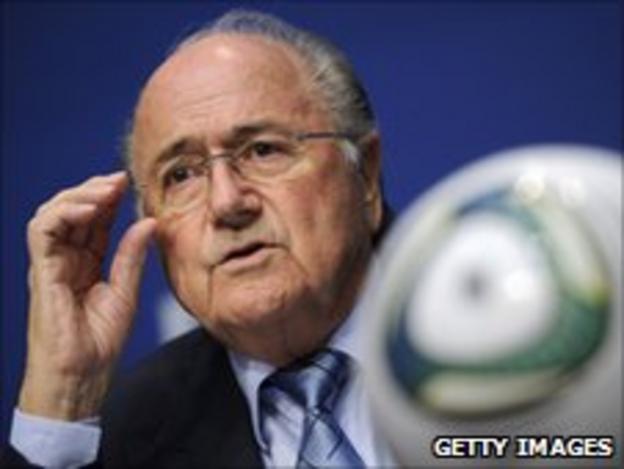 The Confederation of African Football (Caf) has declared its support for Fifa President Sepp Blatter in his race to win re-election.
Blatter is being challenged by the head of the Asian confederation (AFC) Mohamed Bin Hammam in the campaign.
Caf does not have a vote, but the confederation's view will carry weight with the continent's 53 members.
Blatter received Caf's backing at an Executive Committee meeting in Cairo on Monday.
The Oceania, European and South American confederations have already declared their support for Blatter.
The election will take place on 1 June, with representatives of each of Fifa's 208 member associations taking part.
Blatter is the favourite to hold on to his crown and has warned that "the survival of Fifa is at stake".
But following recent allegations of corruption, Bin Hammam has declared "it's time for change" - although he has also said he does not believe Fifa is corrupt.
Bin Hammam, who is from 2022 World Cup hosts Qatar, is Blatter's first challenger since Caf president Issa Hayatou took him on - and lost by 139 votes to 56 - in 2002.
At the same meeting, Suketu Patel of Seychelles and Almany Kabele Camara of Guinea were named as the new Caf vice-presidents.
They will take over from Togo's Seyi Memene and Molefi Oliphant of South Africa, who are retiring.