Mark Wilson defends Celtic role in controversial season
Last updated on .From the section Football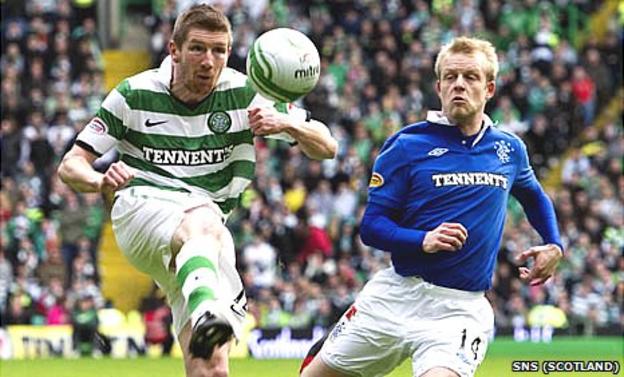 Scotland defender Mark Wilson insists Celtic were not to blame for setting the tone for a highly-controversial season in Scottish football.
Rangers' Walter Smith was quoted as saying that it went downhill after Celtic challenged refereeing decisions.
Wilson was "disappointed" if Smith felt compelled to make the comments after ending his reign as Ibrox boss.
"I don't think he should be pointing the finger at any club," the defender said of the title-winning manager.
The 63-year-old Smith was quoted as saying he was glad to be leaving Scottish football after securing his 10th title with Rangers.
Wilson thought it was unnecessary to suggest that Celtic's contentious relationship with match officials and the Scottish Football Association overshadowed the whole season.
"If I won the league, I'd just be delighted my team had won the league instead of having a parting shot," said the full-back, whose side missed out on the title by a point.
Celtic had a penalty controversially rescinded in their 2-1 win over Dundee United on 17 October and referee Dougie McDonald subsequently admitted lying to the Glasgow side's manager, Neil Lennon, and resigned.
Scottish officials were subject to heightened scrutiny and, in November, they opted to strike, upset at questions over their honesty and integrity.
Scotland's First Minister, Alex Salmond, called a summit with the Old Firm clubs and police in light of trouble surrounding a controversial Glasgow derby on 2 March and announced increased funding to tackle sectarianism.
Lennon, in his first full season in charge of Celtic, and two prominent fans were targeted by parcel bombs and the manager required heightened personal security as a result of death threats.
Controversy continued in the final days of the season when Lennon was attacked on the touchline by a fan during Celtic's win over Hearts at Tynecastle.
Wilson felt it was unfair for Celtic, who also successfully challenged a touchline ban on Lennon, to be deemed culpable for such events.
"It was the referees' problem," said Wilson, who will miss Scotland's forthcoming Carling Nations Cup games through injury.
"It's just unfortunate that it was our club at the centre of it.
"We were right to defend ourselves in the way we did.
"When you look back to it - I think Walter Smith will agree, everybody will agree - a referee lost his job for lying to the manager at Tannadice.
"That's what kicked it off and it went on from there with the referees' strike."
The Scotland international agrees the controversy surrounding referees would have been best avoided but believes Smith is wrong to lay the blame at Celtic's door.
"It was a poor part of the season, no doubt," he added. "We didn't like it, as much as any other team in the league didn't like it.
"Every club and manager is critical of referees when they feel they've got a point.
"I just feel the evidence has come out now that we were in the right at that time."