Cardiff City boss Dave Jones admits future in doubt
Last updated on .From the section Football
Cardiff City boss Dave Jones admits he may not have a future at the club following their failure to win promotion to the Premier League.
"Maybe people think that it's time to move on, or I do, or whatever and I'll assess all that when the time's right," he said.
Reading meet Swansea City in the play-off final at Wembley on 30 May.
Cardiff missed out on promotion at the end of the 2009-10 season in a 3-2 play-off final defeat by Blackpool.
A year earlier, goal difference denied them a place in the play-offs while Jones' reign has coincided with well-documented financial problems that have restricted the manager's ability to sign and retain players.
Now Jones, who took over in 2005, admitted that his tenure is under scrutiny.
He added: "At the moment I feel lower than a snake's belly.
"I'll take stock of my life, my position and whether I want to [continue].
"And it's whether the owners and the hierarchy of the football club want you to.
"Everybody's future comes into it at a football club.
"That's the life and the job that I'm in so if they feel that it's not been enough or whatever, then you move on or you don't feel you can go any further, then you move on.
"If you feel you can go again... we live in a part of the world where everybody thinks that they can always do a better job.
"We just fell at the final hurdle and that's the hardest thing to take and you've just got to give me my dignity and let me wallow in it.
"And I'll get up tomorrow morning and I'll sift through with the staff and see what'sthe best course of action to take for this football club - or it may be taken out of my hands and they [the club's backers] want to do something else.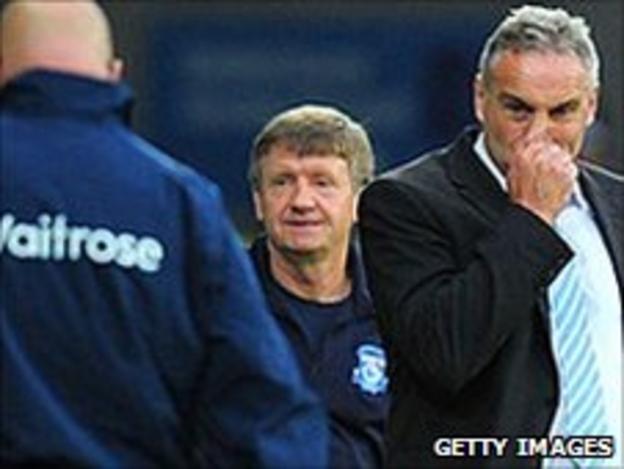 "But it's not the time and it's not the place at this moment."
Jones said he retains the hunger to remain and added: "It's my life. It's something I do that I love so I'll always have the hunger.
"Sometimes you mightn't show it because you're not a ranter and a raver and jumping up and down on the line.
"But if you ask the players in there have I got the hunger? I've always had the hunger - it's never gone away.
"So that's not a problem.
"Maybe people think that it's time to move on, or I do, or whatever and I'll assess all that when the time's right.
"But this isn't the time now because I'll make decisions that mightn't be the right ones and I need my time.
"My staff need the time and the players and the owners and the chief exec [Gethin Jenkins] and everything else and we'll go on from there."