Carlos Tevez wants to stay, says Man City boss Mancini
Last updated on .From the section Football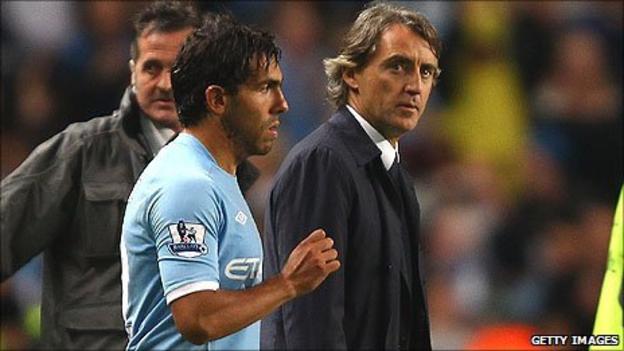 Manchester City manager Roberto Mancini has said captain Carlos Tevez wants to stay at Eastlands after the 3-0 Premier League win over Stoke.
Argentine Tevez's future has been in doubt since the 27-year-old handed in a transfer request in January.
"He has a five-year contract and has told us he wants to stay," said Mancini after seeing Tevez score twice to help lift City to third in the table.
The Italian added: "He said it before. He never had any problem."
Mancini's comments seem to be at odds with those coming from Tevez himself.
Immediately after Saturday's 1-0 FA Cup final victory over Stoke on Saturday, the South American stated that "there is an issue we need to sort out and that's the long distance between me and my family".
And it has been widely thought that Tevez will choose to move to Spain or Italy at the end of this season.
But not according to Mancini, who continued after his side's final home Premier League game of the campaign: "I think he will stay here next year. He doesn't have a problem.
"I spoke with him many times in the last 20 days. It is my opinion that Carlos stays here next season.
"In December he had a problem. But everyone can change his opinion.
"Carlos is an important player here. Carlos has scored 20 goals this season. Every time we say Carlos is an important player. Carlos is Carlos. He is a fantastic striker and a fantastic player for us. The feeling for him is good. Nowhere else can he find behaviour that all people have for him."
Mancini also thinks that Tevez, who moved level with Manchester United striker Dimitar Berbatov in the race for the Golden Boot with a brace that took him to 20 goals for the season, will want to be part of a new era at City.
"When we play in the Champions League, probably we will have a better squad," Mancini stated.
"We can buy other good players. Why should Tevez change [teams]? I don't think this will happen."
Stoke boss Tony Pulis conceded that his side were well beaten at Eastlands and tipped City to "become a force".
"It was always going to be difficult, the after-effects of the Cup meant the lads were still feeling down," Pulis reflected.
"Tevez scored two great goals. The free-kick - how far did he start the ball outside the post? It was fantastic technique.
"City are a good side - they are going to be a force, they have the right balance of pace, power and strength. They will join Chelsea and United in being one of the powers in this country."