Jay Bothroyd backs Dave Jones to remain Cardiff manager
Last updated on .From the section Football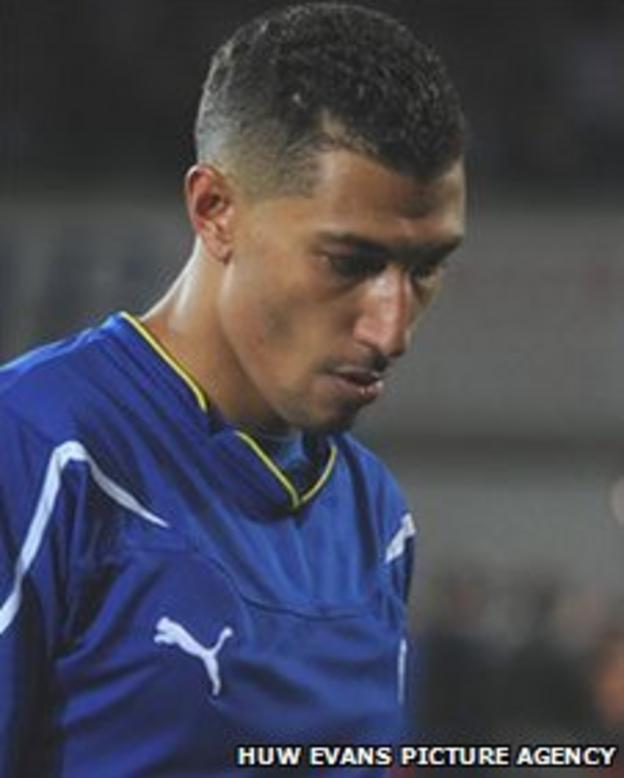 Jay Bothroyd says Cardiff City would be crazy to get rid of manager Dave Jones, while remaining coy on his own future.
The striker, 29, who won his first England cap this season in the friendly with France, is out of contract.
After the play-off semi-final loss to Reading, Bothroyd indicated he has yet to decide whether to stay with Cardiff or seek a new club on a free transfer.
"Cardiff would be mad to get rid of Dave Jones. He's been great, he's brought in quality," Bothroyd said.
"It's not just the manager, it's a collective thing, we're involved as well. We're the boys that go out on the pitch and play the game and he can't affect that, all he can do is pick the team.
"But Dave Jones and Cardiff, I think there can be a lot of expectation [to get promoted] and I think it will happen, in the next year hopefully.
"I don't know yet [about staying with Cardiff], I've got to go away and have a think, talk to my family and whatnot and see what happens.
"But at the moment I'm not thinking about my immediate future, I'm thinking about the loss and I'm bitterly disappointed."
Bothroyd was a £300,000 buy from Jones' former club, Wolverhampton Wanderers, in August 2008, with the former Arsenal trainee signing a three-year deal.
Former Cardiff players Nathan Blake and Jason Perry have already called for a fresh start next season under a new manager, but Bothroyd insists the Bluebirds are in safe hands with Jones.
"Dave Jones has been terrific, ever since I've been at the club he's been great," Bothroyd said.
"He's been great personally for me, he's brought me on leaps and bounds and I'm very thankful to him for that and he knows that."
This season the 6ft 2in frontman led the Championship scoring charts in the first half of the season, earning a first England call and attracting plenty of interest from Premier League clubs in the January transfer window.
Cardiff decided to keep hold of their prize asset to boost their promotion chances, knowing they risked losing Bothroyd for nothing at the end of the season.
Bothroyd, who has also played for Coventry, Perugia in Italy, Blackburn, Charlton and Stoke, suffered a slump in form after his England cameo in November, where he came off the bench in the closing stages of the 2-1 loss.
But he still finishes the season with a very respectable 20 goals from 42 appearances, ensuring his name will be linked with several clubs over the close season, and Bothroyd admits the lure of the Premier League remains strong.
"Everyone wants to play in the Premiership, that's the best league, it's the highest level, you want to play against the best players in the world week in, week out," Bothroyd said.
"But it's not about me, it's about the team and we're disappointed and we're going to go away and have a think about it.
"We're back in Thursday and we're going to have words I guess."
Cardiff had held Reading to a 0-0 draw in the first leg at the Madejski Stadium last week.
But bad errors gifted the Royals their first two goals in Tuesday night's return at Cardiff City Stadium, before former Bluebird Jobi McAnuff added an emphatic third for the visitors - who now face a Wembley play-off final against Cardiff's arch-rivals Swansea on 30 May.
"Obviously we're very disappointed to miss out on achieving our dream, but that's football," Bothroyd added.
"It might sound a bit silly but that's as well as we've played for a few weeks now, and we made silly mistakes and they capitalised on it to score goals.
"But it's not just one game, we could have been better throughout the whole season... hopefully we can go next year.
"I'm not sure what's happening now, obviously it's just time to go away and look at the season, look what you maybe could have done better and evaluate that, and get back to work next season."