Kilmarnock regrets away fans influx at Rugby Park
Last updated on .From the section Football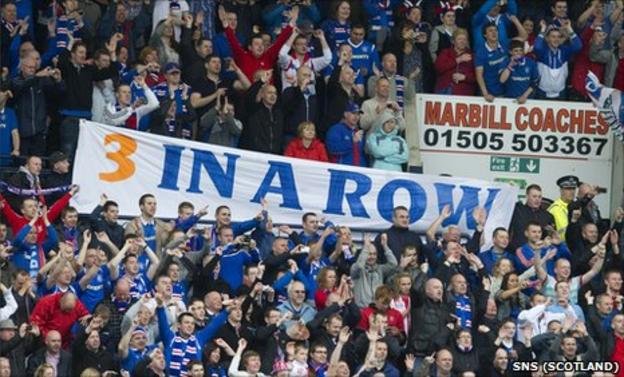 Kilmarnock have expressed regret at the number of Rangers fans present in home sections at Rugby Park on Sunday.
Rangers clinched the Scottish Premier League title with a thumping 5-1 win in front of a 16,173 crowd.
A club statement said that many fans were "extremely unhappy due to the presence of away supporters in areas reserved for home supporters".
It added: "This was never going to be an easy fixture, in terms of ticket sales, segregation and crowd control."
Rugby Park was taken over by Rangers fans celebrating a third consecutive championship triumph, despite Kilmarnock chairman Michael Johnston insisting that "the safety and enjoyment of our supporters was always at the top of our agenda".
Johnston added: "Over the years, Scottish football supporters have proved to be particularly adept at securing tickets to attend high profile matches, at home and abroad, regardless of the precautions taken to restrict their numbers or location within the host stadium.
"The club held three high level planning meetings involving the police, G4S (match stewards) and other relevant agencies. There were many other in house meetings and discussions in preparation for all aspects of Sunday's match.
"It was recognised that either no match tickets could be sold for home support areas in order to secure these for the exclusive use of season ticket holders or, if tickets were to be sold, then there was a high risk of infiltration by Rangers supporters, notwithstanding the use of a ticket application form to capture the personal details of the purchaser and containing an undertaking that the purchaser was a supporter of KFC and would not resell the tickets to anyone who was not.
"Proof of identity was also required. In addition, a notice was issued to each purchaser and displayed on the KFC website making clear the club's policy in relation to anyone displaying support for Rangers in a home support area.
"Being our final match of the season, a league championship decider and the culmination of a successful SPL campaign for the club, it was decided that it would be unfair to our non-season ticket supporters to exclude them.
"It was therefore a massive disappointment for everyone at the club to discover that so many of the East and Frank Beattie Stand tickets sold had found their way into the hands of Rangers supporters.
"In the run-up to the match it became evident that home support tickets and even season ticket vouchers were being offered for sale on the internet, at significant mark-ups, such was the demand.
"We considered selling a section at the north end of the East Stand to Rangers but rejected this idea in favour of using this area as a 'sterile zone' to accommodate away supporters, should the police deem it preferable to enforcing ejections (this was, in fact, implemented on Sunday in an attempt to alleviate the problem). In the event, the number of away supporters in the East Stand rendered the option of ejection (by virtue of showing support for Rangers) redundant.
"We fully appreciate that it will be of little consolation to the club's supporters to know that Strathclyde Police were entirely satisfied with all arrangements put in place by the club and that our staff were praised by both the SPL and Rangers for their diligence and co-operation in hosting this important fixture."