Peter Ridsdale hopes Cardiff backers will stay
Last updated on .From the section Football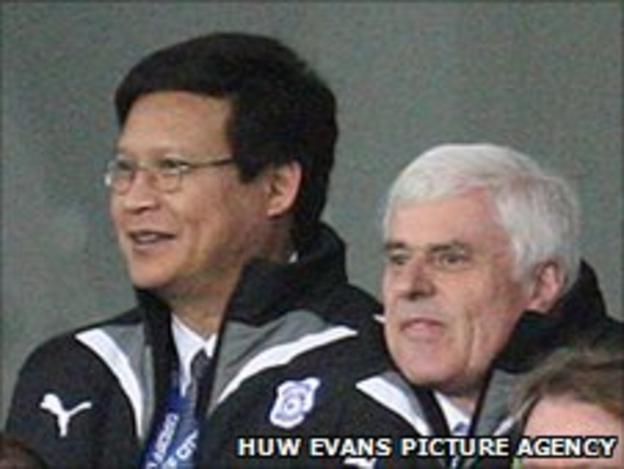 Former Cardiff City chairman Peter Ridsdale hopes the Malaysian backers do not abandon the Bluebirds after their failure to reach the Premier League.
New chairman Dato Chan Tien Ghee, known as TG, invested in Cardiff in 2010 hoping for top-flight football.
But Cardiff's semi-final defeat to Reading has consigned them to at least another season in the Championship.
"I sincerely hope that they are there for the long haul," said Ridsdale, who left when the Malaysians took over.
"Because things don't happen overnight and you have to get over setbacks.
"One of the attractions for their investment originally… was that Cardiff, we believed, was on the brink of Premier League football some 12 months ago.
"Clearly they must be extremely disappointed that 12 months on, having invested a lot of money into the squad, whether it be loan players or permanent acquisitions, clearly Cardiff City have missed out again."
Cardiff City chief executive, Gethin Jenkins, has said that a full review of the season will take place over the next days, with the future of manager Dave Jones included.
But the message from Jenkins back in March was that the board, including principle investor Tan Sri Vincent Tan Chee Yioun, had no intention of turning their back on Cardiff if the promotion failed to materialise this season.
The Malaysian consortium took over the Championship club following their play-off final disappointment in May 2010, when they lost 3-2 to Blackpool in the play-off final.
Their investment helped stabilise the club's finances and staved off a winding-up order after HM Revenue and Customs took Cardiff, who had estimated debts of £15m-£30m, to the High Court regarding a £1.9m debt.
Ridsdale, who stepped down as chairman in May 2010, believes the owners will now be reflecting on the prospect of at least one more season in the Championship, and the loss of a potential £90million injection from Premier League promotion.
"He [TG] wanted automatic promotion and that's what they'd set their stall out to achieve in the season just finished because the Malaysians clearly want a Premier League football team," added Ridsdale.
"I think what this season has proved is that just throwing money at a problem doesn't automatically bring promotion to the Premier League and I think the job we did without any money in the five years before that is probably put in context now.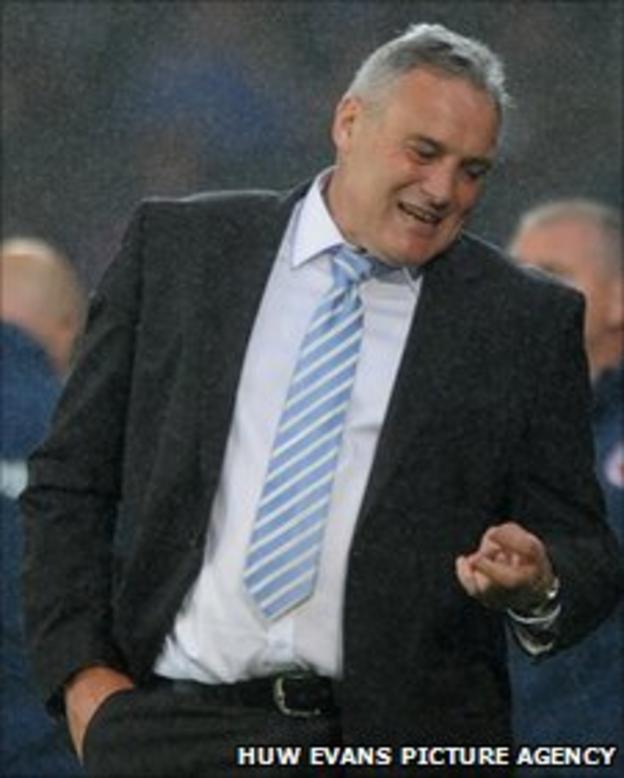 "How much of a setback depends on what they do next season. I think the first thing everybody has got to reflect on is the expectation levels in Cardiff now are so high.
"When Dave [Jones] arrived, Cardiff had just avoided relegation by four points and obviously in the last six years [we've had] the new stadium, the training facilities, the FA Cup final and obviously a play-off final last season.
"The expectation now is that Cardiff should automatically be in the Premier League and it's not as simple as it sounds.
"So the expectation levels are clearly very high and I share the disappointment when I watched the match the other night."
Ridsdale, who appeared in court earlier in May to deny charges of unfair trading and fraud relating to his time at Cardiff, has also warned the club to be very wary if they are considering replacing Jones as manager.
"Dave has been there for all of the six years, so when you make a change you have to decide whether it's going to take you forward or backwards, and obviously only time will tell," he said.
"I think the most difficult job in football is to get the right manager.
"I think stability is critical. Cardiff City have had stability and if Dave were to be changed now I think that the current board have got to be absolutely sure in their mind that whoever comes in will take them further forward rather than push them backwards."