Arsene Wenger vows to keep Cesc Fabregas at Arsenal
Last updated on .From the section Football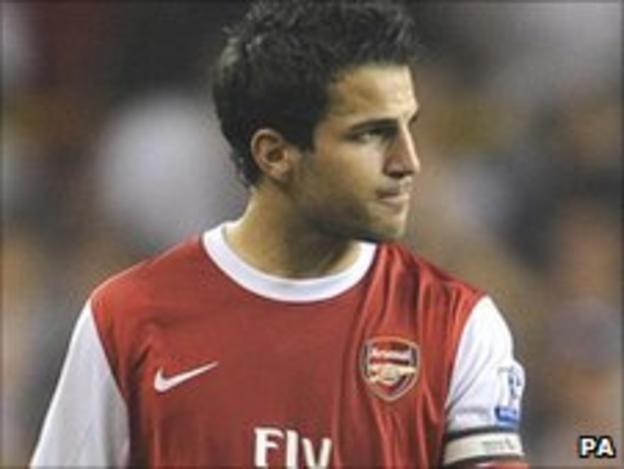 Arsenal manager Arsene Wenger has vowed to "fight very hard" to keep captain Cesc Fabregas at the club next season.
The Gunners are ending a sixth campaign without silverware, but Wenger warned there is no guarantee of success if he chooses to move elsewhere.
"I expect him to be here, and I will fight very hard to keep him here," said Wenger.
"You have always to fight when you have a player of that quality. You must always fight to keep your players."
Arsenal's season went off the rails after they lost the Carling Cup final 2-1 to Birmingham City at Wembley 12 weeks ago.
They are no longer guaranteed a place in the Champions League group stage next season because they have fallen into fourth place in the Premier League behind FA Cup winners Manchester City.
Even if Arsenal win their final match of the season at Fulham on Sunday, a City victory at Bolton would leave the Gunners having to qualify for the Champions League proper.
Wenger is expected to bring in some experienced players over the summer to help his young squad, but will also face another couple of months fending off speculation that Fabregas, a perennial target for boyhood club Barcelona, is to leave.
But Wenger said: "What guarantees you that if you go somewhere else you will win trophies? The biggest pride for a captain is to be committed to his club and deliver trophies with his team.
"A player who changes his club every time he is frustrated or when he doesn't win a trophy, goes nowhere. I believe the quality of sports life is to be committed to your club and not just to move out when it does not go as well as you expected."
"Cesc Fabregas played 22 games this season out of 38 and we expect him to play between 30 and 38. That will make a huge difference to our efficiency next season as well."
Arsenal will again be without captain Fabregas, because of a thigh problem, for the trip to Craven Cottage while midfielder Samir Nasri (hamstring), Abou Diaby (calf) and Gael Clichy (leg) all face fitness tests.
Meanwhile, Wenger will assess Japanese striker Ryo Miyaichi during the pre-season to see if he is ready for the first team.
The 18-year-old was loaned to Dutch side Feyenoord after joining Arsenal in January and is yet to secure a British work permit.
"I have only [heard] positive reports about him. He will be with us in pre-season," said Wenger. "I think he is good enough, and if he is ready enough to have a place in our team, we will ask for a work permit and try to get him in.
"What I like about Ryo is that he has good timing with his runs and understands when to go and where to go. That is something very important. He knows how to use his pace and he is an intelligent player."
Miyaichi played for Japan at the Under-17 World Cup in 2009 but is yet to feature for the senior side.