European match-fixing gang sent to prison in Germany
Last updated on .From the section Football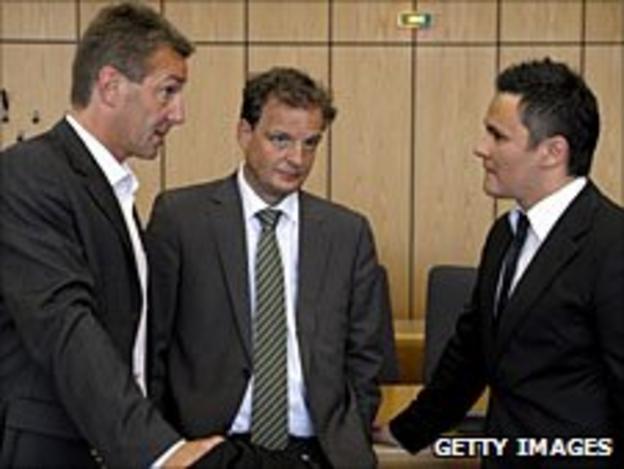 A court in Germany has jailed two men for five-and-a-half years each for their part in a Europe-wide match-fixing scandal.
Ante Sapina and an accomplice known as Marijo C bribed officials and players then bet on the games, with Sapina reportedly making 2.4m euros profit.
The pair admitted influencing about 50 games, including a Champions League game and a World Cup qualifier.
Another accomplice, Dragan M, was given an 18-month suspended sentence.
Last month three other gang members were jailed for periods between three years and three years and 11 months for their role in the scandal.
Sapina was previously found guilty of fraud in a similar match-fixing case involving German referee Robert Hoyzer in 2009 and sentenced to 35 months in prison.
Sentencing Sapina and his co-defendants, Judge Wolfgang Mittrup said they had "shamefully destroyed the enthusiasm of many fans".
The court in Bochum was told how top-flight league games in Switzerland, Belgium and Turkey were all influenced by the match-fixers.
A World Cup qualifier between Liechtenstein and Finland in October 2009 was also rigged, as was a Champions League game in the same month between Hungarian side Debreceni VSC and Italy's Fiorentina, won 4-3 by the Italians.