S Leone FA threaten to pull team out of qualifying
Last updated on .From the section Football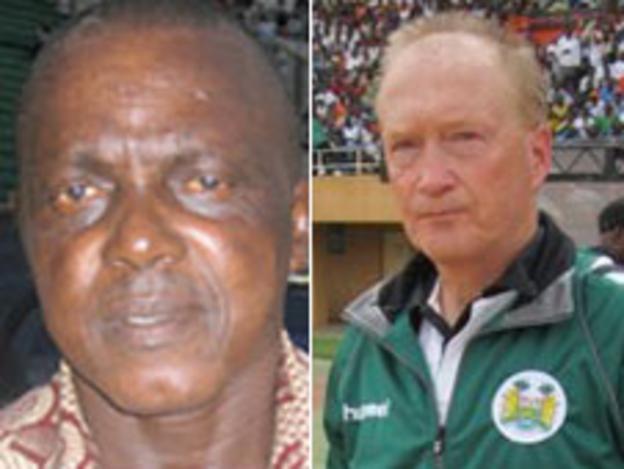 The row over who will take charge of Sierra Leone for their upcoming 2012 Africa Cup of Nations qualifier has intensified, with the country's FA threatening to withdraw its team from qualifying altogether.
The Sierra Leone Football Association (SLFA) says it will pull the Leone Stars out of the competition if Swedish coach Lars Olof Mattsson, who was appointed by the country's sports ministry, takes charge of the side.
Sierra Leone's preparations for the home tie against Niger on 4 June were thrown into disarray after the naming of two separate squads on Thursday.
One provisional 33-man squad was selected by local coach Christian Cole, who is recognised by the SLFA, and the other, a 24-man squad, was chosen by the Swede.
"The minister wants to impose this coach [Mattsson] on the FA," SLFA executive member Alhaji Unisa Alim Sesay told BBC Sport.
"And we have said that based on his CV, his career development and his qualifications, we don't think he is the right person to be employed as coach for Leone Stars."
Mattsson, who is currently in Sweden, told BBC Sport that he has not been contacted by the SLFA and is hoping for the situation to be resolved before returning to Sierra Leone next week.
"I'm not going to go until I know that the situation is resolved between the SLFA and the sports minister," he said.
"I'll stand by here, [but] I'm planning to go there next week, so we'll see what's going to happen."
Mattsson was originally contracted to coach the Leone Stars for just one game and that was the last 2012 qualifier in Niger in Niamey in March.
Despite losing that game 3-1, his contract was then extended by the sport ministry to lead the team for the remainder of the 2012 qualifiers.
However the SLFA has refused to recognise the Swede as coach of the Leone Stars and insist that Christian Cole is in charge of the team for the rest of 2012 campaign.
"We have had a lot of consultation on the issue, but the minister is still insisting [on Mattsson's appointment]," said Sesay.
"We don't want the issue to be fire for fire. What we are saying is we will just back out and we will not invite the players he [Mattsson] has invited.
"At the end of the day it is the FA who invites the players from their respective clubs."
Cole has included 13 overseas players and 20 home-based players in his list and has already started training in Freetown.
Mattsson's squad includes 22 foreign-based players and only two from the local leagues.
All the foreign-based players that Cole has chosen, with the exception of Finland-based Sam Obi Metzger Jr, are also on Mattsson's list.
One name that is on neither list is former Inter Milan striker Mohamed Kallon, who is currently without a club.